On International Women's Day, women in restaurants lead a delicious resistance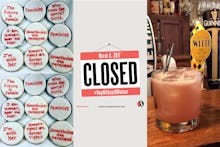 After seeing what America would be like without immigrants, the nation will take a turn envisioning a country without women. March 8, International Women's Day coincides with A Day Without a Woman, which calls for an end to international inequality, racial and sexual violence and more. 
A Day Without a Woman will look a bit different than a Day Without Immigrants, especially in the service professions. While some women will get coverage from male coworkers, others will turn March 8 into a day to raise funds for women's organization or to lead groups on women's empowerment. 
Protesting, not pouring drinks
At the beginning of March, Sophie Bruschi, event manager at New York's the Wren, started seeing posts about A Day Without a Woman on social media, and knew she wanted to participate in some way. "I know the message of these strikes is only as strong as the amount of people who participate and talk about them," Bruschi said in an interview. "I told my boss that I would not be coming to work on Wednesday, March 8." Bruschi's boss, the Wren's owner, Mark Gibson, was "grateful that I brought the strike to his attention, and encouraged me to organize a day off for all of my female colleagues."
From there, Bruschi reached out to all of the women on shift that day to confirm they were comfortable taking Wednesday off. "There was no hesitation on their end," Bruschi said. 
"We hope that our participation in A Day Without a Woman helps strengthen the message that all women should be treated equal to their male counterparts, and that females play a critical role in the socioeconomic success of our country, and every country around the world,"
Women make up the majority of the Wren's front of house staff, so Bruschi was nervous the restaurant wouldn't have the male coverage needed for hosts, servers and bartender positions. But a whole group of male colleagues offered to cover shifts. "It was a wonderful surprise when our male colleagues took no coercion to participate!" Bruschi said, noting that it took under 24 hours to cover all the shifts on March 8 — not an easy task in the restaurant industry, or really, any shift-based gig. "They were excited to help us and eager be a part of the day." 
Currently, the Wren doesn't have any male servers or hosts — Bruschi explained that this isn't intentional, but men generally don't apply for these positions as much as women do — so Bruschi said she hopes that the men who will be filling in for servers and hosts on Wednesday will discover "a newfound respect for these women and their roles" as they venture out of their comfort zones to perform the front of house duties. 
And while the men are serving, Bruschi and the Wren's female staff will meet at their workplace to organize and then venture to the formal International Women's Day rally at nearby Washington Square Park. "We hope that our participation in A Day Without a Woman helps strengthen the message that all women should be treated equal to their male counterparts, and that females play a critical role in the socioeconomic success of our country, and every country around the world," Bruschi said. "Hopefully this message can counter the misogynistic rhetoric and behavior represented by our current presidential administration." 
As a whole, the restaurant industry is not always the easiest place for women to navigate, with men domineering professional kitchens and female chefs and bartenders rarely getting the recognition they deserve in comparison to their male counterparts. Bruschi noted that women are central to the creation, management, and day-to-day operations that "keep the Wren a wonderful place to visit and an even better place to work" and hopes her staff's statement will resonate throughout the industry. 
"I also hope that our industry peers are motivated and inspired by the support and encouragement my female coworkers and I receive from our male coworkers and supervisors," Bruschi said. "Our industry, and many industries, are represented by a lot of male personalities.  However, in many instances it is the women behind the scenes that make up the essence, culture and efficiency of many successful businesses!" 
Bruschi hopes March 8's statement and the Wren's participation in the strike helps to educate the Wren's patrons and raise awareness about the current political climate. "I hope that when our patrons visit us on Wednesday they recognize the Wren as a business that is engaged and active within our community, and an establishment that recognizes the need to acknowledge and eradicate the current biases and inequalities faced by women around the world," Bruschi said. 
Fundraising through cupcakes 
San Francisco's Black Jet Baking Co. partnered with delivery service Good Eggs all week to raise funds for Planned Parenthood by donating 50% of proceeds from a special six pack of pink decorated cupcakes. They're not the only bakers who saw an opportunity to mix resistance with sugar.
"Our plan for International Women's Day is to have a great time baking and decorating cupcakes at a woman-owned bakery," Black Jet owner Gillian Shaw said over the phone during a cupcake-making break. As of 11 a.m. Pacific on Tuesday, the bakery had already sold out of its 300 cupcakes dedicated to the cause. Shaw hopes to increase the numbers each day in order to have a "big donation at the end."
Inspiring Shaw to take on this fundraiser was "the climate of everything that's going on." She continued:
This was a great way to use our craft and get excited about something. I think there's a feeling of helplessness and not knowing what to do and, for me, this was a way of being able to spread a little cheer with a cupcake, and also having that cupcake make a difference at the same time felt really important and made each member of the team feel really proud and excited.
In addition to making as many cupcakes as she can, Shaw wants to actively support woman-owned businesses in San Francisco on March 8, just as others are seeing the importance of her women-owned small business. 
Sharing a space to talk about women
The day dedicated to focusing on women's rights is also being used to show the ways in which women are still coming up short in the restaurant industry. 
Katrina Jazayeri, who co-owns the Boston-area restaurant Juliet, with chef Joshua Lewin, will host a Day With[out] Women open salon, at which she will speak starting at 12 p.m. Eastern on Wednesday. 
Jazayeri said via email that she wants her restaurant to serve as an open space for discussion:
"We wanted to participate in A Day Without Women, and instead of closing our doors, we wanted to invite our community to participate in something generative and informative about women's issues within the restaurant industry. As a woman owned business, with over 50% of our staff and 66% of our management roles held by women, we wanted to utilize our space to be a place for an open exchange of ideas and experiences." 
During her salon, where 100% of donations will go to Planned Parenthood, Jazayeri will discuss her business model and delve into some of the problems she and her business partner have "identified within the industry we love, particularly those that disproportionately effect women, such as wage inequity and inconsistency." 
She said hopes the discussion will attract people both from within and outside the industry because "change comes about when we can energize and engage advocates as well as those directly effected by inequitable and unjust systems." 
Shutting down to charge back up
For some, the radical act of relaxing, or just focusing on an important sense of self (rather than, say, the hours you put in on the job) may be the most important way to contribute to International Women's Day. 
Celina Jean, who owns Austin's SmartFood Kitchen, will be closing her food production facility as a protest in support of International Woman's Day. Knowing that no one would notice if Jean, the owner of the company, didn't work for a day — she's mostly in charge of higher level work, not that actual food that feeds hundreds of people across Austin daily — she decided to make a larger statement by shutting down production and using her space for free mediation and yoga, open to the public. Jean will lead meditation sessions and will have women leading yoga and Reiki as guests drop by throughout the day. 
"When more women become peaceful within themselves, they can help exert this peace into the world." — Celina Jean
"[I hope] to show women that they can be empowered by joining together and standing up what they believe in," Jean said in an interview. She continued:
"I think as women we tend to focus on our characteristics of gentleness and a lot of times that's associated with passivity. We're taught in our culture to be passive, because as women we're supposed to be gentle,  but you need to stand up for what's right."
The "current political situation" inspired Jean to participate in International Women's Day in this way, and she cited access to birth control, universal health care and environmental concerns as issues that she's impassioned and currently concerned about. Unlike a protest or other political act, Jean doesn't expect her event to encourage other women to necessarily agree with her own political views, but rather to "find a little peace within themselves" and help contribute to a "society that focuses on partnership and not competition." She'd like to see people in the political environment and in daily life "become more cooperative" and work together. 
"If our society and our world could become more peaceful, people could become happier in general," Jean said. "My role as a woman and leader is to really open up people's minds to this and to have movement through prayer and meditation, which I think can be a powerful weapon. When more women become peaceful within themselves, they can help exert this peace into the world." 
What does A Day Without a Woman look like? Show us! Mic wants to see what your office looks like when women go on strike. Send your stories, photos and videos to ADayWithoutAWoman@mic.com and we may feature them in an article or on our social media channels.