Why did the Statue of Liberty go dark Tuesday night?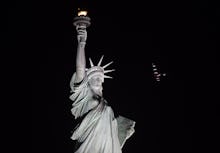 For a few hours Tuesday night, Lady Liberty, the official torchbearer of the United States, went almost completely dark  — and people noticed. CNN reported Wednesday that the statue's lights went off around 10 p.m. and stayed off for more than two hours.
According to a tweet from the National Park Service's official account for the Statue of Liberty, the temporary outage was a result of work being done on the statue to repair damage done by Hurricane Sandy. CNN reported that the NPS released a statement saying that it was a "temporary, unplanned outage."
But to many on Twitter, the symbolism of Lady Liberty going dark the night before International Women's Day and the massive women's strike planned around the country was just too rich to ignore.
And, for whatever reason, some people just weren't buying the Park Service's explanation for Tuesday night's outage.