Premiere: 'Instant Love' reimagines classic heterosexual love songs as sisterhood anthems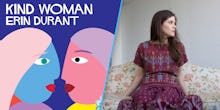 Man pines after girl; girl woos guy; guy all in his feelings about it; girl just wants to have fun. Music has told this male-female love story a million times and will tell it a million more before the world loses interest in music. However, it only represents a portion of all that human love can be. This International Woman's Day, Instant Records, a portion of the global entertainment company the Orchard, is attempting to broaden this conversation.
A brainchild of Allison Zatarain, artist and general manager of Instant Records, and founder Richard Gottehrer, the label is creating a living album called Instant Love, reimagining classic straight love songs as anthems fit to represent a much wider range of love between women.
They're songs of compassion, expressing love between mothers, daughters, sisters and friends. They are also romantic songs for lovers to daydream to, as well as songs of solidarity, intended to unite women for the strikes and fights ahead. The first, a cover of Buffalo Springfield's "Kind Woman," sung by Brooklyn indie artist Erin Durant, premieres on Mic today.
Durant doesn't change the lyrics, but in her soft warble, the line "kind woman, won't you love me tonight?" sheds some of the connotations of strict romantic love they once carried. Floating over a simple bouquet of guitars and tambourine, the words become fit to carry a much more expansive and subtle kind of admiration — exactly as Zatarain hoped they would.
Zatarain came up with the Instant Love idea almost a decade ago, explaining how she used to warm up before shows with her band Action Painters by singing "Dream Lover" by Bobby Darin.
"It has this great line, 'I want a girl to call my own,' and I remember almost being afraid to sing it," Zatarain said in a phone conversation with Mic. "I kind of fantasized about this world where women can be very unafraid to express complex feelings to each other, without labels, whether gay, straight, bi or trans, just shades of gray. It's whatever you're feeling, and just to be free to express that to each other."
It took over a year to plan and conceptualize, but the label has assembled a solid lineup with artists such as Grammy-winning soul/R&B singer Irma Thomas, The Voice alum Adriana Louise and singer-songwriter and poet Tristen to contribute covers of songs by Van Morrison, Ray LaMontagne and the Beach Boys to be released through Spotify, YouTube and other streaming platforms every two weeks. Zatarain could not be more thrilled with the timing.
"We're in the most volatile political times that I can remember," she said, speaking on the eve of the planned women's strike. "There are a lot of ways women are fighting. To bring us together, I think creating music seeking to communicate unity, support and love between each other is another part of the conversation we should be having."
More Mic premieres
Mic has worked with artists to premiere a range of works over the years. Via our music section, Poliça debuted their "Wedding" video, which offered a Sesame Street-style lesson in police brutality. Producer We Are Temporary shared a vision of Kesha's music stripped of her alleged abuser Dr. Luke's production and replaced with a darker soundtrack reflecting the violence of their relationship. Sons of an Illustrious Father showed the world "The Opposite of Love" with a gender-binary-defying dance video. Using a foreboding Donald Trump clip, Wintersleep captured the uncertain future the world faces under his administration in their "Amerika" video.