Remy Ma is ready to move on from "Shether" diss — doesn't care if Nicki Minaj responds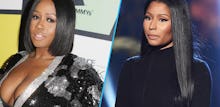 Less than two weeks after releasing her scathing seven-minute diss track "Shether," against fellow rapper Nicki Minaj, Remy Ma has declared their rap beef over. She also isn't waiting for Nicki Minaj to respond, she said during an interview on the podcast Another Round Tuesday evening. You can watch the clip below:
"If she wants to say something, then cool. But I said what I had to say and that's really it," Remy explained. 
During the two-hour show, Remy also revealed that she had mixed feelings about "Shether" in the aftermath. The Bronx rapper would have rather collaborated with Nicki Minaj than release a diss track against her.
"It just bothers me that this record that I put out where it's literally picking apart a female went so viral and every media outlet wants to talk about it [and] pick it up. I feel like we could've did that same thing working together," said Remy. 
"I think we work so much better when we work together and when we help each other."
But female unity went out of the window when Remy felt that Nicki Minaj was not giving her the same respect. 
"However, in the event that you piss me off and we become archenemies, run for cover."
During an interview on the Wendy Williams Show last week, Remy went into detail about the events that led her to record and put out "Shether." 
It wasn't necessarily the little subliminal stuff on records because I don't care about records. It was the behind-the-scenes things that you people will never know about, as far as trying to keep me off red carpets or trying to make sure awards don't go to me, or she's not gonna be in attendance or trying to get people to make bad reports about my album sales, or just anything that I'm doing to make me look less and make her look better.
On Thursday, Remy dropped "Another One," her second track against Nicki Minaj and declared her opponent "deceased" on the cover art. 
Nicki Minaj has been seen out and about at Paris Fashion Week and isn't hiding, but sources says she she is choosing silence and doesn't plan on responding to Remy Ma's record. 
Mic has ongoing music coverage. Please follow our music hub here.