'Powerless' season 1 to air episode with a twist on Richard Donner's 1978 'Superman' movie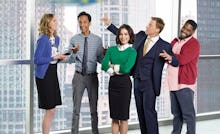 There's certainly no shortage of comic book series on television today. There is, however, only one DC comics comedy: NBC's Powerless. The first comedy set within the DC universe is hoping that its intriguing premise — focusing on ordinary people in an extraordinary world — will attract loyal comic book fans. To date, Powerless' writers and producers have succeeded in crafting a funny workplace comedy set within a familiar universe. 
While the focus of the series is largely on non-powered individuals like Vanessa Hudgens' Emily Locke and Alan Tudyk's Van Wayne (Bruce's cousin), there are plenty of fun nods to the DC universe. While it remains unlikely that we will see much of, or really any, Batman, Superman, Wonder Woman or the rest of the Justice League, the series is doing a nice job of assuring viewers they are out there — somewhere.
(Editor's note: Spoilers for Powerless ahead.)
The most recent episode of Powerless, for example, partially focused on Van, Teddy and Ron's goal of meeting Batman. And while we never actually see the Caped Crusader, he is very much there lurking in the darkness. There have been other fun nods, like the Wayne Security team trying to land Atlantis as a client, and Emily dating one of the Riddler's henchman. And it appears that there will be some more intriguing stories for comic book fans going forward.
Mic recently spoke with Powerless showrunner Patrick Schumacker, who revealed that they are currently shooting an episode that directly references Richard Donner's classic Superman movie. For those that have not seen the film (stop reading if you do not want to be spoiled), Lois Lane dies near the end, causing Superman to fly around the world and turn back time. 
In Powerless, it appears that Lois Lane will die once again. But if we have learned anything from Richard Donner, it is that the Daily Planet reporter doesn't stay dead for long. Here is what Patrick Schumacker had to say about Powerless' nod to Donner's classic: 
[We] are currently shooting an episode that is a nod to Richard Donner's 1978 Superman film, where in our version Lois Lane dies and one of the characters is very happy about it and nobody understands why. And he says, 'Well, there is a theory that this has happened before and Superman flew around the world super-fast, reversed the rotation of the Earth and turned back time. And that means he is just going to do it again. So for however long it takes him to do it again, we have a day with no consequences.' So that's a fun one.
Powerless airs on NBC Thursdays at 8:30 p.m. Eastern.
Mic has ongoing coverage of Powerless. Please follow our main Powerless hub here.