'Horizon Zero Dawn' Training Dummy Locations and Guide: How to get the grazer dummy trophy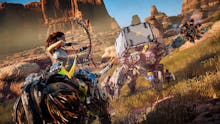 On the hunt for that Horizon Zero Dawn platinum trophy? Most of the game's collectibles are tough to track down without special maps you can purchase that show you exactly where they are, but what are you supposed to do when there isn't a map for a particular set? Turn to the internet, of course.
One of Horizon Zero Dawn's achievements requires you to destroy 23 grazer training dummies, but there doesn't seem to be a map that tells you where they are. Don't worry, we've got you covered. 
Horizon Zero Dawn training dummy locations video walkthrough
In a YouTube video, PowerPyx outlines the locations of all the training dummies in Horizon Zero Dawn. We've listed the locations below the video with screenshots of their location on the in-game map for your quick reference, but the video is the best place to look for a more specific guide of exactly where each dummy is.
Horizon Zero Dawn training dummy locations with map screenshots
• Seven near Rost's house
• Two near Mother's Heart
• Two near Mother's Watch
• Two near Mother's Cradle
• Two near Nora Hunting Grounds
• Two near Mother's Rise
• One near Devil's Thirst Camp
• Two near Mother's Crown
• Two near Hunter's Gathering
• One near Two-Teeth
Check out the latest from Mic, including our deep dive into how female Overwatch players are dealing with online harassment, a cool Easter egg in the latest Pokémon Go update and everything that comes in the $300 Shadows of War: Mithril Edition.