LA County voter turnout was 11.45% on Tuesday. That won't cut it in Trump's America.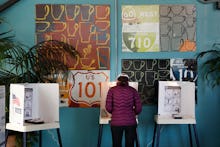 Los Angeles County had an election Tuesday, less than two months after anti-Donald Trump protests galvanized the city. Only 11.45% of registered voters showed up.
According to the L.A. Times, the County of Angels set a record for the lowest voter turnout in a mayoral election in L.A. history. The previous record was 18%, set in 2009 when Antonio Villaraigosa ran for re-election:
These numbers should worry progressives. Donald Trump is president, and Republicans control the U.S. Senate and House of Representatives. Local elections have emerged as some of the few sites where left-leaning voters can advance their agenda. There's little hope for success — pending an all-out political revolution — if progressives don't vote.
Meanwhile, there are about 4.3 million registered voters in L.A. County. Roughly 492,000 of them voted on Tuesday. For comparison, up to 750,000 demonstrators flooded the streets of downtown L.A. — an area of less than six square miles — on Jan. 21 to protest Trump's election. 
That means roughly a quarter-million more Angelenos protested in January than voted this week.
On the surface, the stakes of Tuesday's election didn't seem that high. L.A. handily re-elected Mayor Eric Garcetti — who was projected to win in a landslide anyway — and there were no national or state seats on the ballot. But at a time when California is being touted as ground zero for the anti-Trump resistance, and local politicians have openly expressed their opposition to the president's agenda, the political makeup of its cities and counties matters a lot. 
Here's what was at stake: seven of L.A.'s 15 city council members were up for re-election. A hotly-debated ballot measure — Measure S — failed that could have dramatically slowed housing development in L.A., with potentially wide-ranging implications, including greater housing scarcity in what is already one of the least affordable rental markets in the U.S. Measure H passed narrowly, which raised taxes in the county to help fund housing services for homeless people.
It should go without saying that city policies and demographic makeup can seriously impact how sympathetic local politicians and residents are to, for example, the plight of undocumented immigrants, or criminal justice reform. If what happened in L.A. County this week is a preview of how progressives are going to show up in other upcoming local elections around the country, it's going to be a longer eight years than we could've imagined.