'This Is Us' Episode 18 Spoilers: Will Jack's death be revealed in the season 1 finale?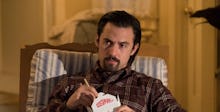 This Is Us viewers hoping to find out how Jack Pearson died will have to keep waiting. Although episode 17 brought us closer to the truth about the Pearson patriarch, the actual big reveal about his cause of death will not be coming in the season one finale.
(Editor's note: Spoilers about the latest episode and the upcoming finale of This Is Us ahead.)
Episode 17 was mainly based around William's memorial service, but that brought up old memories for Kate. In the final moments of Tuesday's installment, Kate finally confessed to Toby that the reason it's so hard for her to talk about her father's death is because she's the one to blame for it.
So, what happened to Jack?
In a flashback, we learn that Rebecca left for her two-week tour and parted on bad terms with Jack. He was still upset that she didn't tell him about her ex-boyfriend being in the band, and didn't give her a proper goodbye. Hoping to help her dad, Kate encouraged him to take the two-hour drive to her gig to make amends. The episode ended with Jack in the car, seemingly ready to go meet his wife — after having a drink or two at the bar.
Initial fan theories speculated that Jack died in 9/11. Now fans are theorizing that Jack died in a drunk driving accident. More pieces of the puzzle will be exposed in the season one finale on Tuesday, but the big reveal is being held for a later date. 
"They're slowly getting the shape of this big event in the family," show creator Dan Fogelman told Variety of dropping bits and pieces for viewers. "Did it happen when the kids were in their 30s? Did it happen when the kids were younger? How did it happen? Was it sudden? Was it slow? We'll get a lot of that information, but the real story of it will play out not in the near, near future. In terms of seeing the moment where something happened to Jack, that's a little ways away. Where it will be finally all fully revealed, that's a ways off."
The season 1 finale
If Jack doesn't die in the season one finale, then what does happen? Check out the synopsis for episode 18, via TV Guide:
In the first-season finale, Jack heads to Cleveland to make things right with Rebecca on the night of her first big gig with the band. Then, Randall, Kate and Kevin make big decisions about their futures.
Catch the season one finale of This Is Us on Tuesday, March 14, at 9 p.m. Eastern on NBC.
Mic has ongoing This Is Us coverage. Check out our main This Is Us hub here.