These schools are closed because of the women's strike today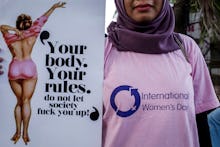 On March 8 — International Women's Day — lady protestors of all stripes donned red clothing and took time off from work to participate in "A Day Without Women," a general strike designed to draw awareness to the vital role women play in America's economic system.
On Wednesday, driven by a high volume of requests for time off, several schools were also forced to shutter their doors out of necessity. Below is a running list of the districts that cancelled classes.
Chapel Hill-Carrboro City Schools
After administrators discovered that over 400 teachers, staff and bus drivers would be absent from Chapel Hill-Carrboro City Schools in North Carolina on Wednesday, classes were cancelled, WRAL.com reports.
"This decision was not made to support any kind of demonstration or be part of any kind of political process," school district spokesman Jeff Nash told the site. "We simply looked at the numbers and decided that in order to keep our children safe today it was best that we not have school."
Prince George's County Public Schools
Though the school took no political stance on "A Day Without a Woman," Fox 5 News reported that Prince George's County, Maryland, Public Schools CEO Dr. Kevin Maxwell said in a statement that approximately 1,700 teachers and 30% of transportation staff had requested leave on Wednesday in the Maryland district.
We cannot transport students and provide safe, productive learning environments without adequate staff. As a result, schools will be closed tomorrow for students. We apologize for the inconvenience this will surely cause to many families.
Alexandria City Public Schools
As Mic reported on Monday, public schools in Alexandria, Virginia, were also forced to close on Wednesday due to an "unusually high number of requests" for time off.
"The decision is based solely on our ability to provide sufficient staff to cover all our classrooms, and the impact of high staff absenteeism on student safety and delivery of instruction," a statement from ACPS read.