'Pokémon Go' Hack 1.27.4: Update lets you check IVs, GPS spoof and more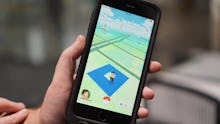 Hacks are nothing new in Pokémon Go. Some, like hacks to increase the number of PokéStops in rural areas, benefit players outside the cities a great deal. Others, like GPS spoofing, are mainly the provenance of cheaters looking to hold gyms without actually checking on them. And while you should already know our official stance on spoofing hacks (it's bad for the game and could get you banned), there is a new update for a popular hack called Pokémon Go++ that works with Pokemon Go version 1.27.4 — assuming you're indifferent to the consequences of cheating in a mobile game designed to get people active.
Here's your guide to installing the hack for Pokémon Go 1.27.4. Just be warned that it might get your booted from the game, or worse, brick your phone. So be careful and definitely back up your device first,
Pokémon Go hack 1.27.4: How to download the new patch for Pokémon Go++
iBlogApple has the scoop on how to get the new Pokémon ++ hack onto your phone. First, you'll have to delete the app off your phone and download two files onto your computer, the Pokémon Go++ 1.27.4 iOS App Store package — IPA for short — and a program called Cydia Impactor. 
Once you've downloaded those files (and installed the impactor), connect your phone to your computer and open Cydia Impactor, then drag and drop the Pokémon Go++ IPA file onto it. Cydia will then ask you for your Apple ID and Password, which iBlogApple alleges is only for establishing what's called a signing certificate, but at the same time — yeesh. 
Once you've done that and downloaded your new, hacked Pokémon Go file onto your phone, you'll have to go into your Settings and find the "Profiles" tab, hit the one with your Apple ID (or the fake one you created for doing this) and select "Trust." From there you're free to open the Pokémon Go app and access a whole bevy new, ill-gotten features.
Just make sure to re-download the IPA every seven days using the same method, or else it'll expire and start crashing. No one ever said cheating didn't require a lot of upkeep!
Pokémon Go hack 1.27.4: What does the Pokémon Go++ update do?
The main reason you'd want to download the Pokémon Go++ hack is because it has a GPS spoofing tool in it and allows you to manually control your avatar through a joystick, without needing to walk around.
If neither of those applications are particularly compelling to you, the only other aspect of this hack we could see being useful is the ability to check a Pokémon's IVs before you catch it. However there are already so many legitimate tools for doing that, so it might not be worth downloading this hack just for that.
More Pokémon Go guides, tips and tricks
Be sure to check out Mic's guides on how to get stardust, how to determine how long it will take you to reach level 40, the kind of Pokémon you get from 10-kilometer eggs, how to create new PokéStops, how to maximize your chances of catching Pokémon and how PokéStops distribute Pokémon eggs. Also check out how to catch Gen 2 baby Pokémon, our analysis of post-balance update Chansey and Rhydon and everything you need to know about finding the long-awaited Pokémon Ditto.