What will be the next Disney live-action movie? These 4 remakes are in the works.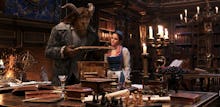 With Disney's live-action remake of Beauty and the Beast hitting theaters soon — and sparking controversy even before it's released — Disney fans are already anticipating what will come next from the Mickey Mouse Club. Bringing talking (and singing) candlesticks and clocks to life onscreen sounded like a challenge, but the results seem to have pleased fans who caught a sneak peak in the movie's trailer. Disney has a seemingly endless library of animated musicals to revisit and bring back to theaters as live-action films. Here's a look at what's coming next.
Mulan 
Mulan, the story of a brave young woman who disguises herself as a man to take her aging father's place in a war, was a popular animated feature in 1998. Packed with songs like "Reflection" and "Make a Man Out of You," the movie calls into question ingrained gender stereotypes, as well as diversity issues, that bear revisiting in present-day culture. With a script by Rick Jaffa and Amanda Silver, who worked on Jurrasic World, the live-action Mulan is scheduled to kick its way into theaters Nov. 2, 2018. 
The Lion King 
Also on deck for Disney is a live-action adaptation of The Lion King, the blockbuster animated movie from the mid-90s. The film was announced Sept. 28, with the news that Jon Favreau, who directed The Jungle Book, will return to direct this fan-favorite film. After seeing the impressive CGI and animation on display in Beauty and the Beast, the possibilities seem endless. The real question is if Elton John will write new songs for the movie, like Alan Menken did for Beauty and the Beast. Some casting for the movie has been announced, including Donald Glover as Simba and James Earl Jones reprising his role as Mufasa. 
Dumbo 
The Hollywood Reporter broke the news in March 2015 that Tim Burton would direct a live-action adaptation of Dumbo, the story of an elephant who is ridiculed for his unusually large ears but learns to embrace his full potential. According to Variety, the film may feature a possible reunion between Burton and Eva Green, who starred in the Burton-helmed Miss Peregrine's Home for Peculiar Children. Burton, who also helmed the movie version of the musical Sweeney Todd and live-action Alice in Wonderland, will no doubt bring his uniquely eerie perspective to the movie, which will feature a script by Ehren Kruger. One can only imagine how Burton will expand on the original material, especially the musical number "Pink Elephants on Parade." 
Snow White and the Seven Dwarves 
The story of Snow White has been adapted for the big screen many times, including Mirror, Mirror and Snow White and the Huntsman. But a musical adaptation of the 1937 animated film, which was announced on Oct. 31, offers new opportunities for animated special effects. The movie, which will feature a script by The Girl on the Train screenwriter Erin Cressida Wilson and new original songs written by La La Land lyricists Benj Pasek and Justin Paul, has the opportunity for a more feminist angle, giving Snow White more of a story than simply being pretty and kind (and a good housekeeper). 
Mic has ongoing Disney coverage. Please follow our main Disney hub here.