'Powerless' showrunner hints at a Superman vs. The Flash race and the Blight in season 1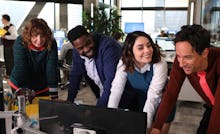 After taking a one-week hiatus to make room for The Voice's season 12 premiere, Powerless will return with an all-new episode at 8:30 p.m. Eastern on Thursday. And if you haven't been watching NBC's new comedy set within the DC Comics universe — the first such comedy series of its kind — it's probably time you start. 
Powerless is an intriguing take on the DC universe, focusing not on the classic superheroes we know and love but the everyday people who exist among them. The series has taken advantage of this premise, teasing characters like Batman, Superman and Aquaman while introducing lesser-known heroes like Crimson Fox to viewers. 
For comic book fans in particular, it appears there are quite a few interesting story lines that will unfold as the series progresses. Mic recently spoke with Powerless executive producer and showrunner Patrick Schumacker, who revealed a bit of what to expect over the course of season one. 
According to Schumacker, fans will see — at least partially — a race between the Flash and Superman in the season's penultimate episode and, in the season finale, an appearance from the futuristic alien race the Blight. Clearly, there's still a lot to look forward to on Powerless.
For more on what's ahead, check out the interview with Schumacker below. The answers have been edited and condensed for clarity.
(Editor's note: Spoilers for Powerless ahead.)
Mic: Of all the DC television shows, Powerless seems to be the most representative of the DC universe. We know all the heroes exist, even if we don't exactly see them. Are there any characters that are off limits in terms of even mentioning?
Patrick Schumacker: No, there are not any characters off limits in terms of actual mentioning. In terms of seeing them, there's certain characters that are [off limits]. But we wanted to be as inclusive as possible and be able to represent the entire breadth of the universe — that any character that exists within these individual universes like the CW shows, they all exist in some capacity in our universe as well. 
So yeah, we just wanted to make sure that everybody understood — because the universe is so expansive — we just wanted to make sure people understood that. We decided early on about certain characters who we wanted to see, certain characters that felt either underrepresented or ones that would lend themselves comically to the stories we were trying to tell. 
There are currently three major members of the Justice League — Aquaman, Wonder Woman and Green Lantern — who don't have their own show. Is there any possibility of seeing one of these pop up?
PS: I don't think that you are necessarily going to see any of the big seven pop up. We are currently shooting an episode now where one of them — possibly the biggest one of them, arguably — is seen [laughs] in a very obscured manner, but we have not cut that part into the show and we do not know exactly what we will be able to get away with when the final cut is ready for air. 
Even so, it's certainly fun for fans of comic books to see lesser-known characters like Jack O'Lantern, Olympian and Crimson Fox appear. Are there any other lesser-known characters who could appear?
PS: I can tell you one will appear on the show that has not aired yet. We brought in Natalie Morales from The Grinder, White Collar and Parks and Recreation. She is playing Green Fury, also known as [one part of] Fire and Ice in Justice League International. She's a fire-powered superhero. She shoots green flames out of her hands. She can erupt into a Human Torch-like fireball. She's going to appear for a couple of episodes later on in the season. That is the only guaranteed one.
We right now are writing an episode with an appearance from the Blight. They are a futuristic, technologically advanced race of aliens that have gone up against the Legion of Super-Heroes. They end up coming through a wormhole for our season finale. They're going to make an appearance. Let's see, what else I can say ...
We actually have a cold open that we just shot for the second-to-last episode that involves a race between Superman and the Flash, which is based on an actual storyline from the comics. That is one where you have two beings that can move at ridiculous speeds that when making an appearance on camera, may not be representative of ways you normally see them in Zack Snyder films, but they're there.
Mic has ongoing coverage of Powerless. Please follow our main Powerless hub here.