Fraternity brothers smeared peanut butter on a freshman who is allergic in hazing ritual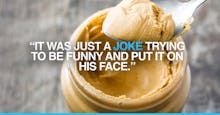 This week in shockingly disgusting and dangerous frat-bro antics: A fraternity thought it would be a good idea to spread peanut butter onto a Central Michigan University student who has a severe peanut allergy. 
Brothers of Alpha Chi Rho Fraternity smeared peanut butter on the face of 19-year-old Andrew Seely, CBS News reported. The incident occurred in October but is resurfacing now after a post from Seely's mother went viral. 
Seely is extremely allergic to peanuts. So after the incident, he experienced a dreadful and terrifying allergic reaction to the peanut butter. 
"He woke up in the frat house in the morning and he actually thought he had been punched in the face," Teresa Seely, Andrew's mother, told Allergic Living. 
Seely passed out when people smeared peanut butter on him, Teresa Seely said. Seely was in the process of pledging a fraternity last fall but has now transferred from CMU. Spokespeople for CMU told Detroit news station WDIV that the Alpha Chi Rho fraternity closed in 2011 due to other hazing incidents. It appears the fraternity is still conducting activities off-campus. 
Teresa Seely posted on Facebook about her son's incident but said she was forced to take it down after it received a slew of negative comments. 
In her post, Seely noted her son has a "deadly" peanut allergy and that he "could have been killed... Luckily he is still alive."
Students involved in the incident claimed they had no idea Seely was allergic. 
"It was just a joke trying to be funny and put it on his face," one student told WDIV. "We didn't know he was allergic. It was just college students being kids."
But Seely had told the frat brothers that he has a peanut allergy, Paul Seely, Andrew's dad, told CBS News. "He wears a medical bracelet. For this individual to think that it was just a joke is hard for us to comprehend," he said, wondering why no one called 911 when they saw him having a reaction.
People with allergies are often targeted by bullies. One in three kids with food allergies say they have been bullied because of their allergies. 
In 2008, a high school student was sentenced to four days in jail after they smeared peanut butter on the face of a fellow student with an allergy, the Seattle Times reported. 
To say the fraternity stunt at CMU was just "college students being kids" is a sad excuse for putting someone's health at risk. Like the phrase "boys will be boys," this is a platitude that subverts accountability.