This Ohio bookstore is shelving male-authored books backward to spotlight women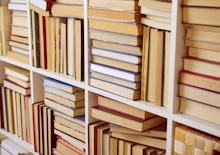 An Ohio bookstore is giving female authors the floor on International Women's Day with a visual reminder of the publishing industry's stunning gender disparity.
Starting on March 1, the staff at Loganberry Books began turning all male-authored books on the store's hardcover and paperback fiction and poetry shelves backward, leaving only the spines of books by women visible. 
Harriet Logan, the store's owner, said the project serves the dual purpose of illustrating an injustice while simultaneously seeking to rectify it.
"By turning the books around, the whiteness of the page creates a different contour and color than what you're used to seeing on a wall of books," Harriet Logan said in a Wednesday interview. "It's also, of course, very easy to find women's books because they jump off the selves. And browsing, you're probably more likely to pick one up."
Logan described the project as a "live performance art project" that involved herself and her staff physically reckoning with the gender gap in their own store. Logan said even she was surprised to see the divide between male- and female-authored books at Loganberry.
"I try very hard to carry women's works in the store, so I thought my collection would have a better balance than the industry on the whole — and I don't think that's true," she said. 
In its 2016 report, VIDA, an organization that supports women in the literary arts, found that a stubborn gender gap persists when it comes to whose work gets published and even who reviews those works. Spoiler alert: Both groups are overwhelmingly dominated by men. 
Logan estimated about 37% of the books on the store's fiction and poetry shelves are written by women. But after seeing just how many books she had to flip backwards, Logan said she's determined to see that number skyrocket. 
"That's the goal of the project — to be on the lookout for women authors," Logan said. "And I look forward to closing the industry's gender gap in my own bookshop."
What does A Day Without a Woman look like? Show us! Mic wants to see what your office looks like when women go on strike. Send your stories, photos and videos to ADayWithoutAWoman@mic.com  and we may feature them in an article or on our social media channels.
-
We are shining a spotlight on some of the millions of small businesses now challenged by COVID-19. This is part of an ongoing commitment our parent company, Bustle Digital Group, is making to support small businesses throughout the entire month of May. Tell us about your favorite small business on social media using #SmallBusinessSalutes.