'Pokémon Go' Nest Migration? Niantic CEO Hanke hints at regional migration in the future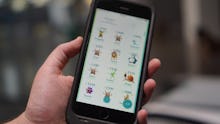 Nest migrations are nothing new in the Pokémon Go universe, but certain Pokémon — like the leek-wielding Farfetch'd — are region-locked. That means a North American player won't be able to capture Farfetch'd without traveling to certain parts of Asia. But that might not always be the case. According to an off-hand comment Niantic CEO John Hanke made in an interview on March 7, we might be seeing a regional migration at some point in Pokémon Go's future.
Pokémon Go nest migration: Niantic CEO hints at big regional changes
Although the bulk of John Hanke's interview with Wired Germany was about augmented reality, he did make one comment about the high concentration of Krabbys in his hometown of San Francisco, as opposed to the slightly more varied selection of Pokémon in Berlin, where he's been giving interviews.
The article, published in German, points out that some Pokémon live only in specific places — but "perhaps there could be a migration," he said, per Google's translation.
Hanke doesn't say any more about what the migration would look like or when we might see it. Mic reached out to Niantic to ask for a clarification; we'll update if given a response.
Still, the fact that Wired Germany ran that statement alongside a pretty obvious mention of region-locked Pokémon is exciting for any player who's lamenting the lack of Mr. Mime or Kangaskhan in their area (and the cost of a plane ticket to Europe and Australia to catch those specific Pokémon).
Until then, North American players will just have to content themselves with a hypothetical (but possible!) future full of migrating regional Pokémon, proximity-based trading and an updated gym structure. Sure, it's frustrating that we still don't have a solid timeline for any of these updates, but it's good to know that there are big changes being teased for the game, so close on the heels of the Gen 2 release.
More Pokémon Go guides, tips, tricks and updates
Check out Mic's Pokémon Go tips and tricks. Here are guides on how to get stardust, how to determine how long it will take you to reach level 40, the kind of Pokemon you get from 10-kilometer eggs, how to create new PokéStops, how to maximize your chances of catching Pokémon and how PokéStops distribute Pokémon eggs. Also check out how to catch Gen 2 baby Pokémon, our analysis of post-balance update Chansey and Rhydon and everything you need to know about finding the long-awaited Pokémon Ditto.