Kerry Washington, Gabby Douglas and more want you to #EmbraceAmbition this International Women's Day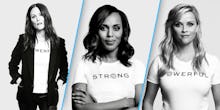 This International Women's Day, stars like Kerry Washington, Gabby Douglas, Reese Witherspoon, Laila Ali, Julianne Moore, Jon Hamm, Gwyneth Paltrow, Yara Shahidi and Billie Jean King are teaming up with fashion designer Tory Burch for a new campaign, called #EmbraceAmbition, that calls upon women to embrace ambition for herself and others, and strive for greatness. 
In the video PSA, women like Shahidi and Witherspoon make announcement like: "Be persistent," "I will dream big" and "Never give up on your hopes and dreams," all important reminders for women living in a world that'd be nothing without their existence but has stigmatized ambitious women. 
"The people in the PSA are people I admire and that have been vocal or lived their lives in a way that shows that this is meaningful and this is not a partisan issue," Burch told People. "This is a human rights issue, women should have equal rights. It should be a give-in."
In the video, all of the stars sport black and white T-shirts that read things like "Visionary," "Strong" and "Boss," which gets to the real action this campaign intends to take. Over on Burch's own website and torysport.com, there are those T-shirts, special #EmbraceAmbition bracelets and other merch for sale, with 100% of proceeds going towards Burch's own Tory Burch Foundation, which helps empower female entrepreneurs in America. 
In addition to the products, there's also a pledge that people are encouraged to sign on the website, reading: 
I will:Embrace ambition.Proudly articulate my ambition. Not hide it.Defend women who are criticized for being ambitious.Dream big. Not justify my dreams.Help all women to embrace their ambition.
Overall, the campaign is about female empowerment and more women realizing their worth and strength and importance to society as a whole. By launching on International Women's Day, the #EmbraceAmbition campaign is also launching in tandem with A Day Without A Woman, which has many women across the world striking in order to show just how vital women are to society and others wearing red as a sign of solidarity. 
You can watch the entire #EmbraceAmbition PSA below: 
What does A Day Without a Woman look like? Show us! Mic wants to see what your office looks like when women go on strike. Send your stories, photos and videos to ADayWithoutAWoman@mic.com and we may feature them in an article or on our social media channels.