Tim Kaine's son arrested during counter-protest of a pro-Trump rally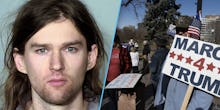 Former vice presidential candidate Tim Kaine's 24-year-old son, Linwood "Woody" Kaine, was arrested in St. Paul, Minnesota, on Saturday after participating in counter-protests to a pro-Trump "March 4 Trump" rally, the Pioneer Press reported on Tuesday.
Kaine was arrested with four other counter-protestors on suspicion of "second-degree rioting" after anti-Trump demonstrators clashed with the pro-Trump rally inside the state Capitol building on Saturday. The Pioneer Press reported that counter-protestors interrupted the pro-Trump gathering with "air horns, whistles and chants" and that someone set off a smoke bomb. 
Elisa Sarmento, one of the organizers of St. Paul's March 4 Trump rally, told the Pioneer Press that it was "very disappointing" that counter-protestors disrupted Saturday's event.
Kaine was held in a county jail and released Tuesday morning. No charges were filed against him, though authorities are reportedly investigating whether or not Kaine was part of a group of counter-protestors who lit fireworks inside the building, St. Paul police spokesperson Steve Linders told the Pioneer Press.
Linders said that Kaine was arrested about a block away from the Capitol, noting that officers used "some force" to arrest him. According to Linders, the officers didn't know who Kaine's father was, and Senator Kaine's office didn't contact the St. Paul Police Department.
Woody Kaine is one of Tim Kaine and wife Anne Holton's three children. Older son Nat is a Marine and daughter Annella is reportedly studying to be an actress. In a statement to the Pioneer Press Tuesday night, Sen. Kaine expressed support for his younger son, saying "We love that our three children have their own views and concerns about current political issues. ... They fully understand the responsibility to express those concerns peacefully."