Lindsay Lohan celebrates International Women's Day with a quote from Prophet Muhammad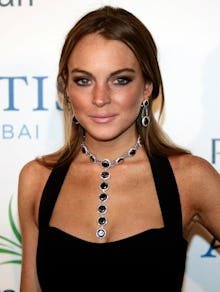 Lindsay Lohan paid homage to International Women's Day with an Instagram post accompanied by a quote from Prophet Muhammad.
On Wednesday, Lohan posted a photo of herself with a young child and the following caption: 
Women are not created weaker but more generous than men. They are created more beautiful and less fierce, as beauty hates to hurt and harm others. That is why they seem weak to people, but in reality they are not. Angels are the strongest of created beings, and women are closer to the angelic nature than men, as they are readier than men to carry angelic light" - Prophet Mohammed - happy women's day ??
While Lohan has faced backlash from conservatives and anti-Muslim activists in the past, her Instagram post was overwhelmingly met with positive reactions.
"I LOVE YOU LINDSAY YOU ARE WELCOME TO ISLAM ANY TIME DON'T YOU EVER FEEL ASHAMED OF RESPECTING THE BEAUTIFUL RELIGION AND POSSIBLY FOLLOWING IT ONE DAY," one Instagram user commented. "MAY HE CONTINUE TO GUIDE YOU. AMEEN."
This isn't the first time Lohan made headlines for referring to quotes from the Quran or Prophet Muhammad. In early January, Lohan wiped her Instagram account clean and wrote the Islamic greeting of "Alaikum Salaam," which means "unto you peace" in Arabic, in her bio.
Then in February, Lohan posted a photo of her appearance on popular Kuwaiti talk show Swar Shoaib where she said she listens to the Quran on her phone from an app. The Instagram post was accompanied by a quote from a hadith. The hadiths are oral accounts of the sayings of Prophet Muhammad. 
"What actions are most excellent?" the caption read. "To gladden the heart of human beings, to feed the hungry, to help the afflicted, to lighten the sorrow of the sorrowful and to remove the sufferings of the injured."
Lohan further prompted speculation that she had converted to Islam in late February. She said she was racially profiled at Heathrow Airport in London because she wore the hijab. 
But regardless of her spiritual journey, during a time when a ban on Muslims is a reality, Lohan is making Islam, Muslims and Prophet Muhammad's message more visible to people around the world.