Janet Mock honors A Day Without a Woman by standing up for Planned Parenthood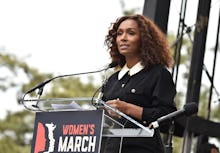 Writer and activist Janet Mock celebrated all women and Planned Parenthood on International Women's Day with a powerful photo posted on Facebook.
"To all the women — the black, indigenous, poor, brown, trans, thick, fat, juicy, queer, disabled, unhomed, femme, undocumented, emerging, invisibilized, extinguished and agi-f*cking-tated," her Facebook post read. "On this International Women's Day, I struggle alongside you for recognition, freedom, love and unequivocal access to all things we need to survive and thrive, including vital resources like Planned Parenthood. #istandwithpp"
With President Donald Trump in the Oval Office, congressional Republicans have drafted a plan that seeks to repeal and replace the Affordable Care Act, and include a provision that intends to defund Planned Parenthood. According to NPR,  40% of Planned Parenthood's funding — $500 million — comes from the government. The federal funding helps Planned Parenthood provide health care to 2.5 million people in need, whether that may be through "lifesaving care like cancer screenings, birth control and STI and STD tests," according to Planned Parenthood Action Fund President Cecile Richards.
Mock, a transgender activist, has become a prominent voice in the women's resistance against Trump's administration. She gave a riveting speech on the importance of intersectional feminism at the women's march the day after Trump's inauguration.
"Our approach to freedom need not be identical but it must be intersectional and inclusive," Mock said in her speech on Jan. 21. "It must extend beyond ourselves."