Nintendo Switch Games List: 5 old-school sports video games that should be rebooted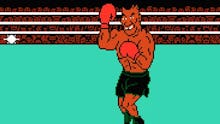 Conceptually, the Nintendo Switch is a marvelous console. The ability to take your entire system on the road with you is fantastic. Sadly, the library is a little sparse for the time being. There are no sports titles currently available except for the racing game Fast RMX and a couple of minigames in 1-2-Switch.
Games like FIFA and NBA 2K18 are coming later this year, but Nintendo could stand to add some old-school flavor to its sports library. Here are five series that could spruce up the selection.
Nintendo Switch games wish list: Ice Hockey
Before there were detailed player profiles and ultra-realistic collision-detection systems, Nintendo delivered one of the most addictive sports games in history with its Ice Hockey video game.
If you're old enough to remember the game, you probably have some recollection of the big guy, the skinny guy and the medium dude.
It seemed really simple, but there was strategy involved in this game. You had to find a way to use the slower, heavier guy as the enforcer so that you could put the medium-sized guy in the best position to score goals.
Nintendo could upgrade the graphics and have a hit on its hands with a similar concept on the Switch.
Nintendo Switch games wish list: Mario Golf
As of now, there's no news on a golf game coming to the Switch. Titles like Golf Club and EA Sports PGA Tour would be nice, but if Nintendo keeps it in-house, it could always deliver Mario Golf.
It was strange to see the Switch not debut with a Mario-themed game, but Mario Kart 8 Deluxe is on its way.
Nintendo's signature character would still be received well on the virtual links.
Nintendo Switch games wish list: Mario Tennis: Ultra Smash
As cool as it might be to see Mario tee off on the Switch, it might be even more fun to see him and the rest of the Nintendo universe with a racket in hand.
There's currently no active tennis series on any console. Mario Tennis wouldn't exactly be a simulation, but it would be something for fans of the sport to enjoy.
Nintendo Switch games wish list: Pro Wrestling
Who's up for a Back-Brain Kick? That's what Fighter Hayabusa's finishing maneuver was called in the Pro Wrestling video game for the original Nintendo Entertainment System.
In reality, it was an enzuigiri — a martial-arts-style blow to the back of the head — but it was one of the many highlights of playing this classic wrestling game. The controls were simple and the characters were outstanding. 
There was no official license with this game, and that's fine. If the mechanics were sound and just as fun as they were originally, and the game had an epic create-a-wrestler tool, it would be a massive hit for the Switch.
Nintendo Switch games wish list: Mike Tyson Punch Out
There's a simple charm to Mike Tyson Punch Out. Lil Mac's diminutive size and the challenge of defeating the likes of Super Macho Man and Tyson made the game addictive. 
If Nintendo could get Tyson to sign on, or if it's still interested in renewing that partnership, this is a game that would have some appeal. 
Nintendo would need to add more characters and update the roster for a new generation, but who wouldn't love to hear "knock him out" at home or on the road with the Switch? 
More sports gaming news and updates
Are you a sports gamer? Check out more content from Mic, including news on Tips on leveling up your NBA 2K17 MyPlayer, playing quarterback in Madden 17 and the latest information on MLB The Show 17.