International Women's Day on Snapchat: The app put makeup on Marie Curie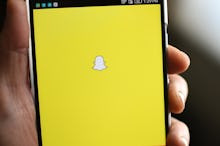 This International Women's Day — the global holiday that falls on March 8 every year to commemorate the women's rights movement — users are taking to social media to celebrate. Whether it be to share empowering quotes, join the "A Day Without Women" strike or share stories, social media is serving as a useful platform for the occasion.
On Snapchat, there is an International Women's Day geofilter featuring profile sketches of six diverse women. There's also one that says "Work It, Girl." The platform also has three lenses devoted to women who have made an impact on society, including Mexican painter Frida Kahlo, American civil rights activist Rosa Parks and Nobel Prize-winning scientist Marie Curie.
While it's clear Snapchat has good intentions with the lenses, the platform is coming under fire for its Marie Curie filter, which features heavy eye makeup. When using the Marie Curie filter, users will notice a smoky eye look with eyeliner and enhanced lashes. It also appears to have a slimming effect on faces.
This isn't the first time Snapchat has been called out for its filters. The company faced backlash for their Bob Marley "blackface" filter, an anime-inspired filter that was deemed a "racist Asian caricature," and for their popular beauty filters that essentially whitewashed faces by lightening skin tones. The skin-lightening effect appears in the Marie Curie filter, as well.
We have reached out to Snapchat for comment and will update with any response. 
What does A Day Without a Woman look like? Show us! Mic wants to see what your office looks like when women go on strike. Send your stories, photos and videos to ADayWithoutAWoman@mic.com and we may feature them in an article or on our social media channels.