12 photos from around the world show just how big International Women's Day really is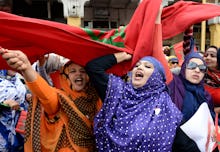 International Women's Day is observed around the world annually on March 8, and for countless women and their allies, the U.N.-designated day is an opportunity for protest, celebration and unity. 
Here are just a few of the powerful images from International Women's Day rallies, demonstrations and observances across the globe.
Melbourne, Australia
In Melbourne, thousands of women and their allies marched on the city's Parliament house in a massive Women's Day march for economic and reproductive justice, an end to racism and violence against women, and transgender and disability rights, among other goals.
New Delhi
In New Delhi, 200 women took part in a mass self-defense technique training led by Delhi police as part of Women's Day in the city, according to Getty.
Toulouse, France
In the city of Toulouse, women and their allies marched for International Women's Day carrying signs like the one seen in the above above, which translates to "We want rights, not flowers," according to Getty.
Islamabad
In Islamabad, women and allies rallied and held signs calling for an end to violence against women as part of International Women's Day observances, the Associated Press reported.
Manila, Philippines
In Manila, protesters rallied against violence against women and the death penalty, the AP reported, which the Philippine House of Representatives recently moved to reinstate.
Pristina, Kosovo
In Kosovo, people observed International Women's Day by marching for gender equality and protesting violence against women. One woman marched with a sticker across her forehead that read, "We march, we don't celebrate," according to the AP.
Sanaa, Yemen
In Yemen, women gathered outside the U.N. building in Sanaa. The people in the above photo held a sign with the message: "Yemeni women die due to war and siege," the AP reported.
Kiev, Ukraine
In Kiev, women and their allies took to the streets on International Women's Day to march for gender equality.
Bucharest, Romania
In Bucharest, advocates observed International Women's Day by honoring women who had been killed by their partners, the AP reported. Flowers and cards bearing the victims' names and causes of death were read during the event, called "If one falls, we all fall."
Buenos Aires, Argentina
In Buenos Aires, women observed the day with a one-hour strike, during which time they took to the streets. Organizers reportedly encouraged women to gather and picket, march, and bang on pots and pans.
Tbilisi, Georgia
In Tbilisi, demonstrators rallied to support LGBTQ rights on International Women's Day, the AP reported, and held signs advocating for trans women and reproductive justice.
Rabat, Morocco
In Rabat, women and allies marched in the streets on International Women's Day in a protest that advocated for gender equality, Getty reported.
By Wednesday afternoon, even as International Women's Day gatherings ended for the day in some parts of the world, they were only just beginning in others.
What does A Day Without a Woman look like? Show us! Mic wants to see what your office looks like when women go on strike. Send your stories, photos and videos to ADayWithoutAWoman@mic.com and we may feature them in an article or on our social media channels.