Nicki Minaj just tied queen Aretha Franklin for the most Hot 100 hits among women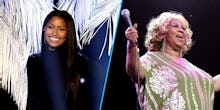 Not even Remy Ma's "ShETHER" hit job, which has been buzzing in the news since its Feb. 25 release, could stop Nicki Minaj from continuing to add new jewels to her pop crown. On Wednesday, Billboard broke the news that Minaj, the Trini rap phenomenon, tied the record previously held by Aretha Franklin for the most hot 100 hits among women. 
The track that did it for Minaj? Her collaboration with Gucci Mane on "Make Love," the song that included the suspected — though possibly misinterpreted — disses against Remy Ma that encouraged her to reignite her Minaj beef in a big way. 
To Minaj's credit, to have a song lashing out your rivals be the one to land you in the history books alongside Queen Aretha is a hell of a way to silence haters.
Aretha and Nicki have 73 entries apiece, with Taylor Swift sitting at no. 2 with 70 entries. Rihanna also moved up a notch on the list, with her and Future's "Selfish" debuting at No. 37 on the charts, surpassing Madonna to take the no. 3 seat.
In keeping with the emphasis hip-hop places on collaboration, Minaj is only the top-billing artist on 29 of her charting hits; she's a featured artist on the remaining 44. Franklin, on the other hand, is lead artist on all 73 of her hits, released during a time in which feature billing was not common practice.
Both queens are still a ways behind the most charting acts of all time. With 207 hits, the TV show Glee actually holds that title. Lil Wayne (133) and Drake (132), follow at nos. 2 and 3, respectively. Minaj and Franklin are tied for no. 10 on that chart.
Minaj has an album due out soon, and considering the way big-name pop albums have taken to charting en masse, she's likely to extend her lead over the "Respect" singer and aim to unseat the men (and TV show) at the top.
More Nicki Minaj news and updates
Mic has ongoing coverage of Queen Nicki Minaj's reign. Read an analysis of her latest charting song "Make Love," a rundown of her best quotes shutting down sexism and speaking fierce, feminist truths and a clip of her roasting Donald Trump for his "Bad Hombres" comment from the third presidential debate. Also check out a rundown of eight songs that prove she's the queen of rap and a look at everything we know about her coming album.