Is 'Arrow' new tonight? When to watch season 5, episode 16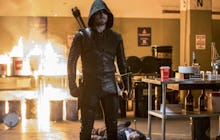 Last week's episode of Arrow revealed the answer to the season's most enduring question: Who is Prometheus? In what was probably seen as a shocking twist to many, we learn that Adrian Chase, whom comic book fans likely thought was Vigilante, was in fact, the season's big bad, Prometheus. 
Towards the final moments of "Fighting Fire With Fire," Chase appears to kidnap Oliver's girlfriend, Susan Williams, setting up what is sure to be some explosive drama in season five, episode 16. Unfortunately, we are going to have to wait just a bit longer to see how Oliver reacts to the news that the district attorney is also his manipulative enemy — and has kidnapped Susan.
Arrow is taking a one-week hiatus, and will return with all new episodes on Wednesday, March 15 at 8 p.m. Eastern. For now, we have the synopsis and promo for season five, episode 16, titled "Checkmate," to hold you over as best we can.
Check out the official synopsis, via SpoilerTV, for "Checkmate" below:
Oliver (Stephen Amell) gets closer to the truth about Prometheus. Meanwhile, Helix refuses to continue helping Felicity (Emily Bett Rickards) until she does a favor for them. 
Do not fret, we have more! Here is the extended promo for "Checkmate":
Mic has ongoing coverage of Arrow. Please follow our main Arrow hub here.