Chuck Schumer, 2 GOP presidential hopefuls top list of Wall Street political donations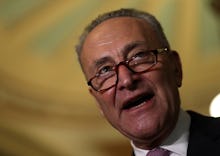 The 2016 election was full of hotly contested debates about which candidates where beholden to lobbyists and big financial special interests, but without much clarity. A new report takes square aim at answering those questions by finding out which candidates received the most financial support from Wall Street.
The report is by Americans for Financial Reform, a nonpartisan coalition of advocacy groups that advocates for a safe and stable financial system, and found that the top recipient of money from the financial sector was Sen. Marco Rubio (R-Fla.), with $8,687,969 raised between his campaign and PACs supporting him. The politicians with the second- and third-most contributions were Sen. Ted Cruz (R-Texas) with $5,482,011, and now-Senate Minority Leader Chuck Schumer (D-N.Y.) with $5,345,563.
Schumer's position at the top of the list is notable for several reasons. Unlike Rubio and Cruz, Schumer was not running a presidential campaign. As national races with higher profiles, presidential campaigns tend to garner significantly higher levels of contributions. What's more, Schumer's Senate race was one of the least competitive in the country.
It's therefore difficult to make a case that individuals from the financial services sector were donating to Schumer's campaign simply to help him win his Senate race. Many of those donors likely suspected, like the rest of the country, that Schumer had a good shot at becoming the majority leader in a Democratic-controlled Senate with a Democratic president. 
To Schumer's credit, he did not keep the Wall Street cash all to himself. He donated $8 million of his campaign cash to help other Senate Democrats across the country try and win their races in 2016.
Schumer has come under fire in the past for being too close to the financial industry. In one notable example from the Obama era, progressives accused Schumer of derailing a proposal to end the carried interest loophole — a tax break for private equity and hedge fund managers — on behalf of New York's private equity interests. 
Ironically, Schumer now uses that same carried interest loophole as his chief example of a progressive reform on which he'd be willing to work with President Donald Trump.
"Surprisingly, on certain issues, candidate Trump voiced very progressive and populist opinions, for instance, getting rid of the carried interest loophole," Schumer told NBC's Chuck Todd last November. "I hope on the promises he's made to blue-collar America on trade, on carried interest, on infrastructure, that he'll stick with them and work with us, even if it means breaking with the Republicans who have always opposed these things."