12 artists worth checking out at SXSW Music Festival 2017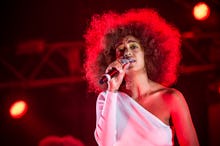 In 2016, more than 2,000 artists graced the stages and venues during SXSW Music Festival and in a few days the annual week of performances welcoming underground and popular acts from all over the world kicks off again. SXSW Music Festival 2017 takes place Monday, March 13, to Sunday, March 19. For those heading to Austin for the week ahead, here is a look at 12 artists you should check out and where and when to catch them. 
(Editor's note: some of the events require special badges or wristbands.)
Noname
Rapper Noname and good friend of fellow Chi-Town native Chance the Rapper is on the lineup. She is performing on March 14 at Maggie Mae's Rooftop, on March 15 at Cheer Up Charlie's and on March 16 at Mohawk Outdoor. More information here.
Cameron Avery
Cameron Avery, the bassist in Australian psychedelic band Tame Impala, will be performing at two venues on March 16: Elysium at 1:00 a.m., and Parish at 10 p.m. Avery is releasing his debut solo album Ripe Dreams, Pipe Dreams this year.
Aminé
Emerging Portland-native rapper Aminé will be hitting the festival this year. He is scheduled to perform at Stubb's Venue on March 16 at 10:05 p.m.
Tinashe
Singer Tinashe is bringing her cool girl pop/R&B vibes to the festival. She has a set at 800 Congress on March 15 at 12:00 a.m. 
Banks 
Singer Banks is set to sing her futuristic R&B cuts to the SXSW festival goers on March 15 at Bar 96, and March 16 at Banger's. Check her set times here.
PWR BTTM
The queer punk duo are ready to turn up at Stubb's on Mar 15, 2017 at 7:30 p.m. and Cheer Up Charlie's on March 16 at 12:00 a.m.
Rae Sremmurd
The hip-hop rap duo Rae Sremmurd will be performing at YouTube on Coppertank on March 16 at 11:00 p.m. More information on the wristbands you need to access this special showcase here. 
Alice Phoebe Lou 
The South African-native singer and songwriter Alice Phoebe Lou, whose recent TEDTalk Berlin video went viral, is set to bring her music to the venue Swan Dive at 10:00 p.m. on March 15.  
Solange 
Another big act set booked at the YouTube on Coppertank venue is Solange. The singer will be gracing the stage March 15 at 11:00 p.m.
MUNA 
Indie pop genre-bending trio MUNA will be performing at a showcase on March 17 at Bar 96. Their set kicks off 11:00 p.m. 
Sleigh Bells 
Fans of alternative rock duo Sleigh Bells have two opportunities to catch them performing at SXSW. They're set to play at Mazda Studio at Empire Garage at March 14 at 1:00 a.m. Their second show is at Banger's on March 15 at 12:00 a.m.
Migos 
Migos will bring the trap anthems to the SXSW festival this year. The Atlanta rap trio is on the bill at YouTube at Coppertank on March 17 at 10:45 p.m. To check which festival badge is needed to enter the show that night, click here. 
Mic has ongoing music coverage. Please follow our music hub here.