How much money do the winners of 'Survivor: Game Changers' get?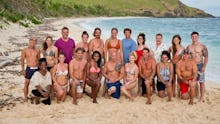 The current contestants on Survivor, CBS' hit reality TV show, who have endured less-than-ideal situations in rough conditions, definitely earn their paychecks. Survivor victors take home a very nice paycheck — and the longer they survive, the bigger their payday. 
With season 34 of Survivor: Game Changers premiering at 8 p.m. Eastern on Wednesday, it's time to look back at exactly how much previous winners have cashed in. 
How much do they win?
The winner of Survivor receives $1 million, while the runner-up gets $100,000. The drastic difference between the two prizes is the reason why the show's host, Jeff Probst, often tells runners-up they made a $900,000 mistake. 
Survivor pay scale 
The amount of money won by Survivor contestants depends on how long they remain on the show. Today reported the first person voted off is given $2,500, with the amount increasing as the season continues. The 11th-place victor, for example, receives $10,000; whoever ends up in 10th place receives $15,000. 
What do they do with the money? 
Business Insider reported that some Survivor winners contribute to charities, start their own businesses or host other reality shows. Others, like season-one winner Richard Hatch, ended up in jail for failing to pay taxes on his winnings. 
This season's competition 
The cast of returning game-changers consists of Caleb Reynolds, Jeff Varner, Malcolm Freberg, Tony Vlachos, Troyzan Robertson, Aubry Bracco, Ciera Eastin, Hali Ford, Michaela Bradshaw, Sandra Diaz-Twine, Andrea Boehlke, Cirie Fields, Debbie Wanner, Sarah Lacina, Sierra Dawn-Thomas, Brad Culpepper, James "J.T." Thomas, Ozzy Lusth, Tai Trang and Zeke Smith.
Thomas, Diaz-Twine and Vlachos are all previous winners of Survivor. Diaz-Twine has taken home the top prize twice. 
Mic has ongoing Survivor coverage. Please visit our main Survivor hub here.