Right-wing pundits are calling the women's strike a "hysterical hissy fit"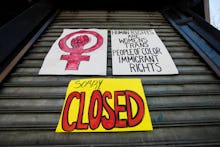 No surprise here: The same folks who called the Women's March a "random protest march by the usual ragbag of leftist suspects" aren't too pleased with #DayWithoutAWoman.
While the organizers behind the Jan. 21 march and the Day Without A Woman strike have clearly laid out their broader vision for feminist justice on the "mission and vision" and "unity principles" pages on the Women's March website, many pundits still seem to think the protests are all about President Donald Trump and liberals' inability to accept his presidency.
Amanda Carpenter, CNN contributor and former communications director for the Ted Cruz campaign, kicked off what turned into a barrage of backlash and straight-up sexism first thing Wednesday morning.
"All Wednesday's meaningless demonstration does is hand the Republican Party a wide-open opportunity to dismiss it as a hysterical hissy fit, staged by left-wing activists still mourning Hillary Clinton's loss," Carpenter wrote in a column for Politico. 
While her piece only teases how the Day Without A Woman strike "could" backfire, Carpenter made it clear she had already chalked it up to a failure in a subsequent tweet, calling the strike a "hissy fit" in plain language. 
Over at Forbes, contributor Sabrina Schaeffer argued the women's strike "defamed" men and only served to portray women as victims. She suggested feminists "grossly" overstate the gender wage gap and reduce women to objects. 
"A Day Without Women is protesting against something that simply isn't true — that the overwhelming majority of men simply don't value women in society," Schaeffer writes. "That boys and men need to be reminded of what their world would look like without us."
Last month, the Federalist ran a piece titled "Go Ahead, Women's Marchers, Strike. Nobody Will Miss You," a claim it later contradicted with a list of all the ways striking teachers caused problems for the public school systems.
On Wednesday, Federalist contributor Audrey Rabenberg called the strike a "self-indulgent day for privileged females" — a concern (minus the "self-indulgent" part) the organizers took into consideration when they came up with alternative means for women to participate in the Day Without A Woman.
Still, Rabenberg maintained the strike's organizers should be "ashamed of themselves."
As with any broad movement, the Women's March and the Day Without A Woman have their limitations — and it's certainly worth exploring them. 
But it's fair to assume that a piece that calls women hysterical, assumes feminism relies on a hatred of men or tells a group of diverse women leading a movement for wide-reaching transformative justice they should be ashamed of themselves won't offer any particularly nuanced critiques.