Here's how people are paying tribute to transgender women on International Women's Day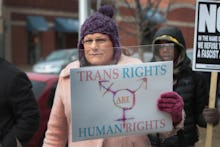 On International Women's Day, it's especially important that no one gets left out or marginalized. 
As people of all genders gathered together in person and on social media to discuss the importance of women and women's rights, many made it a point to highlight the importance of standing with and fighting for transgender women.
On Wednesday, the organizers of January's Women's March on Washington gathered with protesters outside Trump Tower in New York City for #ADayWithoutAWoman, where Women's March organizer Carmen Perez affirmed the need for people to make space for transgender women to feel safe. 
"We must be accountable to the ways that we still fall short in fighting gender oppression," Perez said at the gathering. "Trans women, trans men and gender-nonconforming people aren't here today because they feel unsafe. They're excluded from our spaces and in the dialogues that we have about gender. We must do better."
Perez continued, calling for the feminist movement to work toward building a more inclusive environment for trans women. 
"We must work harder to include them, the way we ask to be included — as our full selves, without harassment, without discrimination and violence," she said. "We must work hard to center their voices and to let them lead us. So long as any of us are not free, none of us are free." 
People of all genders on social media included messages of solidarity to transgender women and those participating in #DayWithoutAWoman, urging them not to erase transgender women from the day's messaging. 
Many also pointed to the specific challenges faced by transgender women, especially transgender women of color — including violence. In 2017 alone, seven transgender women of color have been killed. 
On Friday, in response to the five transgender homicides in February alone, protesters filled the streets of Downtown Chicago in solidarity with transgender women of color. 
To highlight the contributions of transgender women of color, several people also shared pictures of many of the trans women of color who are responsible for LGBTQ rights, like Marsha P. Johnson and Sylvia Rivera and modern icons like Laverne Cox and Janet Mock.