Apple speaks out on WikiLeaks: "Many of the issues leaked were already patched"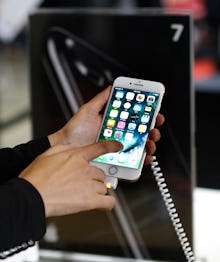 WikiLeaks released a trove of unverified documents dubbed Vault 7 on Tuesday. The collection, consisting of records from 2013 to 2016, is said to be from the CIA — specifically, "an isolated, high-security network situated inside the CIA's Center for Cyber Intelligence," according to WikiLeaks' press release.
If the first set of 8,761 Vault 7 documents (called "Year Zero" by WikiLeaks) is authentic, then the agency used tools to break into smartphones, computers and televisions. The documents allegedly include details about the CIA's global hacking program, malware and zero-day exploits for devices like iPhones and Android smartphones. For iOS devices, various security exploits are outlined that allow the CIA to bypass security measures.
Apple has since responded to the leaks, stating it fixed "many" of the bugs revealed in Vault 7 and is working on the rest, according to a statement released to TechCrunch and Mashable:
Apple is deeply committed to safeguarding our customers' privacy and security. The technology built into today's iPhone represents the best data security available to consumers, and we're constantly working to keep it that way. Our products and software are designed to quickly get security updates into the hands of our customers, with nearly 80% of users running the latest version of our operating system. While our initial analysis indicates that many of the issues leaked were already patched in the latest iOS, we will continue work to rapidly address any identified vulnerabilities. We always urge customers to download the latest iOS to make sure they have the most recent security updates."
Users worried about their device's security should make sure they've updated to the most recent operating system as well as opt for messaging platforms offering end-to-end encryption, like WhatsApp and Signal.