Activists Linda Sarsour, Tamika Mallory arrested at NYC's A Day Without a Woman protest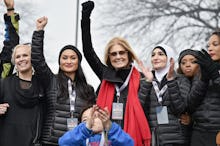 Women's March co-organizers Linda Sarsour, Tamika D. Mallory, Bob Bland and Carmen Perez were arrested for protesting outside of Trump International Hotel in New York City on International Women's Day, according to the Women's March official Twitter page.
The arrest took place at approximately 1:30 p.m. Sarsour and Mallory were marching toward the hotel, which is located in Columbus Circle, where they reportedly intended to form a human chain around the building. Thirteen demonstrators had been reportedly arrested at Columbus Circle, a NYPD spokesman told Patch. Another NYPD spokesman, however, could not immediately confirm to Mic how many were arrested or any charges made.
A Women's March representative told the Hollywood Reporter that out of thirteen arrested, eleven were organizers of the Day Without Women's March.
"Today, the national leaders of the Women's March gathered with allies and those participating in the day's actions for a show of solidarity and revolutionary love," the rep told the Hollywood Reporter. "After a peaceful protest in New York City in honor of A Day Without a Woman, 11 organizers were arrested by the New York City Police Department in an act of civil disobedience outside of Trump International Hotel & Towers."
Many groups across the country are participating in women's strikes and protests in honor of International Women's Day.
On Dec. 3, 2015, Sarsour and Mallory were both arrested during a peaceful demonstration while participating in the Eric Garner protests in New York City, which took place one year after the non-indictment of Daniel Pantaleo — the police officer who was recorded putting the Staten Island man in a chokehold that ultimately resulted in his death.
This story is breaking and will be updated. 
Feb. 08, 2017, 3:39 p.m.: This story has been updated.