A necessary and important guide to Sarah Michelle Gellar's many iconic 'Buffy' hair styles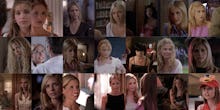 Though today isn't technically a national holiday, it is — not to be hyperbolic — the most important anniversary in the history of the things that can have anniversaries (sorry, mom and dad).
On this day 20 years ago, Buffy the Vampire Slayer first premiered on the WB. "Nobody is likely to take this oddball camp exercise seriously," the New York Times wrote in their 1997 review of the series. 
Boy, were they wrong.
Two decades later, Buffy's impact is everywhere: from college classrooms where young scholars dissect the "non-hierarchical, 'democratic vision' of the family" on the series to the titular slayer's status as a third-wave feminist icon. As the Hollywood Reporter's Brian Porreca put it recently, "There are two kinds of TV viewers: Those who love Buffy the Vampire Slayer and those who haven't seen it yet."
One thing those who fall into the latter category might experience is the dark reality of not having witnessed the epic hair evolution of Buffy Summer, played by Sarah Michelle Gellar, during the seven years she spent as the chosen one.
"I love her hair!" David Lopez, hair stylist to stars like Chrissy Teigen and Hailey Baldwin, said in an interview. "Buffy was always on trend without being trendy. I love her wispy bang moments. Simple but still soft and pretty — and always bouncy."
"Some of the hair styles I look at and think, 'Yeah, I could wear that today,' or 'I definitely had that hair style in the l late 90s' and other times I think 'I can't believe that that was a thing that was acceptable," Devon Maloney, a culture journalist who last summer live-tweeted binge-watching the entire series, said in an interview. "I think the hair and makeup people on Buffy seemed to have gotten the go-ahead to experiment and do what they wanted to do and it was less consequential to the show. It was a thing that we enjoyed as we watched it but it wasn't as essential as, say, Carrie Bradshaw's various outfits and hairstyles."
Let's start from the beginning and jump to the end, then we'll middle along the way. At left below is the very first shot ever of Buffy Summers in the 1997 pilot of Buffy the Vampire Slayer. At right is the final frame from the series finale in 2003.
One through line evident in both photos and the 142 episodes in between: Good hair — very good hair.
But don't take our word for it. Below, in chronological order, a tribute to Buffy Summer's signature locks.
Season one
For season one, Gellar kept Buffy's hair simple — and notably darker (closer to her natural color), with styles that involved a lot of barrettes. 
Season two
For season two, we were given a chopped, shoulder-length cut to start off the season, with Gellar's hair much blonder than the previous season.
Season three
Season three was full of experimentation, from pigtails to super-short bangs (*shivers*) to crimping.
Season four
Season four gave us Buffy's longest 'do to date, plus the introduction of her signature beach waves.
Season five
Season five saw a more adult Buffy experimenting with her hair long and straight or slightly wavy, but always steadfastly perfect.
Season six
No season saw more hair changes than season six. We started with long, unkempt brunette (she was dead at the season's beginning after all), then a mid-season chop (her shortest hair to date), ending with shoulder-length curls.
Season seven
For the final season, Gellar successfully experimented with up-dos, braids and half-up/half-down looks, pulling each one off with ease. 
Thankfully, while Buffy Summers may be a character, Gellar is real, and she manages to continue the legacy of very, very good hair.
Mic has ongoing Buffy the Vampire Slayer 20th anniversary coverage. Check out the main Buffy the Vampire Slayer hub here.