Palestinian rapper Tamer Nafar on what hip-hop can and can't do for cultures in conflict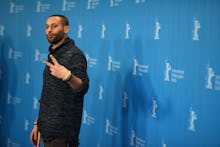 Long before a political consciousness became the hippest artist accessory in music, hip-hop understood the difference a message could make. Styling itself as a voice for the voiceless, it's risen out of the Bronx to become a global phenomenon, establishing itself in West Africa, South America, China, Palestine, offering new aesthetics for class and civil rights struggles wherever it landed. It simply requires visionaries to find ways to flow in their mother tongue.
Palestinian rapper Tamer Nafar is one of the pioneers of Arabic hip-hop. Along with his group DAM, an acronym for Da Arabian MCs and a word meaning "eternity" in Arabic and "blood" in Hebrew, Palestine's first rap crew adopted the artform to tell stories of the street culture of Lod, or Al-Lyd, once a Palestinian city with a majority Arab population, now a majority Jewish city under Israeli control and one of the biggest drug markets in the Middle East. Nafar's work soundtracking the Nakba, or the "catastrophe" of the Israeli occupation, as Palestinians describe it, has made him a polarizing figure in Israel — accepted, up to a certain point by the Israeli left, and seen as an on-again, off-again agitator by the country's right.
"For me, stepping into politics, like my father used to say, it's like into a burning building," Nafar said during a recent visit to Mic's offices, discussing his new film Junction 48. "Hip-hop made me understand that I want to be a fireman." 
Distributed for wide release in early March, the film tells a dramatized version of Nafar's story trying to break into the Israeli club scene, searching for ways to use music to galvanize resistance to Arab-Israeli discrimination. Nafar, better than most, understands what hip-hop can mean to those seeking hope in dark times, as well as the limitations that come with trying to create cultural change through art.
Tupac was Nafar's first introduction to hip-hop. Fascinated by the twist in his lyrics, the 808s, his flows, Nafar found something familiar in the passion and rage in Tupac's voice. It encouraged him to learn English and start dissecting the layers of references that 'Pac, Rakim and other golden age legends stacked to great effect.
"It just opened the door for me," Nafar said. "I started comparing things between Malcolm and the Black Panthers and the PLO and whatever the Palestinian people were going through. It's weird that I had to go to the West to come back and explore my eastern roots. Hip-hop made me more aware of my situation."
"We are facing a flood and we cannot stop that flood, but we can build Noah's Ark."
However, the politics of the situation always ride shotgun for Nafar. Whatever critique he's trying to make, in film, in music, he has to make sure that the message doesn't obscure the aesthetic value of that moment. Junction 48 is fun. Watching Nafar's character Kareem and his brother crack jokes at Israeli cops while they profile and search the crew, has a sardonic light heartedness to it. Nafar's lines — "The NSA is more powerful than the N.W.A," which he comes up with on the spot explaining how hip-hop and power relate — are fun. They have to be. 
That ability to tickle people's rational faculties while keeping them dancing is where hip-hop's true cunning lies.
"I'll quote [something] Udi Aloni, the director of [Junction 48], says: 'We are too weak to change the situation,'" Nafar explains. "We are facing colonialism in the West, we are facing Trump, we are facing the occupation. We are facing ISIS. We are facing [Israeli Prime Minister Benjamin Netanyahu]. We are facing the fail of the Arab Spring. I don't think that a song can fix that."
He cites Killer Mike's barber shop interview with Sen. Bernie Sanders, which echoes the limitations Aloni notes. On one hand, Nafar describes the sit-down where the Atlanta rapper and Vermont politician chopped it up about the war on drugs, voter ID laws and socialized health care, as "the deepest, most fascinating interview ... more interesting" than the famed Frost-Nixon interview. But still, it couldn't change the United States' political fate.
"I think if art was bigger than reality then Bernie Sanders would have won," Nafar said. "Hip-hop is a defender of the minority, but it remains a minority."
Nafar notes that coming from Palestine, he doesn't see the difference between George Bush, Barack Obama or Donald Trump. "It's the same colonialism; it's the same stealing oil; it's the same taking out our dictators," he said. "I mean fuck then, but it's like that South Park episode, where it's Saddam or Bush or Obama — it's what's the difference between a douche bag and a turd sandwich? It's the same shit."
However, he says he can't ignore the risk the Trump administration poses to minorities in the U.S., or the jingoistic, nationalistic movement he contributes to abroad. In the dark times to come, he sees hip-hop playing a significant role in uniting the like-minded against the coming storm. Because it appeals to the emotions, it can inspire in a way a political speech never could. Because it relies on so much more than messaging, it can create points of contact between people across linguistic and cultural barriers — people who might not otherwise realize they're united in the same struggle.
"We are facing a flood and we cannot stop that flood, but we can build Noah's Ark," Nafar said. "Just gather these people that when the flood passes away that small community can create that new generation, that new language. I mean by that new generation, artists, thinkers, people who stand for Muslim rights, for women's rights, for gay rights — people who don't pick a side, but pick a cause."
Mic has ongoing music coverage. Please follow our main music hub here.