Transgender woman shot in New Orleans burglary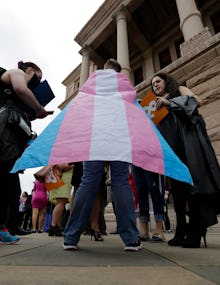 On Sunday night, three gunmen shot a transgender woman as she ran away from them, the New Orleans Times-Picayune reported. The gunmen then held up the victim's friend and two other men. 
The shooting happened as the victim attempted to visit a friend's home. As she walked up to the front door, she noticed three figures wearing masks approaching her, according to the Times-Picayune. The victim tried to warn her friends inside, but the gunmen entered the house. As the victim fled, she was shot more than once, the Times-Picayune reported. The gunmen then robbed the people inside the home before escaping through the back door, according to the Jefferson Parish Sheriff's Office.
Authorities first identified the victim, who was taken to a nearby hospital, as female then male, then reported she is a transgender woman. The victim is alive. 
Authorities also said the gunmen were not targeting the woman, but rather the people inside the house.
The Jefferson Parish Sheriff's Office released photos of one of the gunmen on their official Facebook page. 
This is the fourth reported instance of anti-transgender violence in Louisiana in less than two weeks. In a 36-hour period in New Orleans, both Chyna Doll Dupree and Ciara McElveen were killed. A few days later, Mic reported the death of Jaquarrius Holland, a transgender woman in Monroe, Louisiana. 
On Friday, protesters in Chicago organized a rally in the city's downtown to show solidarity with the transgender community and to call for more awareness against anti-transgender violence, which has touched Chicago twice in the last year. Both KeKe Collier and TT Saffore were killed since September.