Jon Huntsman is Donald Trump's pick for Russian ambassador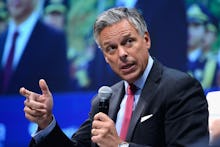 President Donald Trump has tapped former Utah Gov. Jon Huntsman, a moderate Republican who previously served as the U.S. ambassador to China under Barack Obama, as his administration's ambassador to Russia, CNN reported Wednesday.
News of the pick comes way by several senior administration officials, according to CNN, one of whom pitched Huntsman as a "brilliant guy" who is willing to be "tough" while dealing with the Russian government.
Huntsman is a solid pick for several reasons, not the least of which is that his credentials as an ambassador under a prior Democratic administration could help stem growing concerns there is something untoward about Trump and several of his officials and associates' ties to Russia. As an Obama appointee, Huntsman's loyalties are not under doubt, though ultimately his approach to managing relations with Russia will fall under Trump's purview. 
At the top of Huntsman's agenda will be handling the U.S. response to recent Russian expansionism into eastern Europe, such as its annexation of Ukraine's Crimean peninsula, and managing resulting tensions between Russia and the NATO alliance. Huntsman will also have to grapple with the situation in Syria, where Russian President Vladimir Putin has ordered the Russian military to intervene in favor of Syrian President Bashar al-Assad against both Islamist rebels including ISIS and the ragtag collection of other militias which control swathes of the country — some of which are backed by the U.S.
Trump defied conservative orthodoxy and struck a friendly tone on U.S.-Russia relations on the campaign trail and in office, even amid efforts to determine the scope of an alleged Russian intelligence effort to leak embarrassing  information about Trump's opponents during the election. Huntsman is likely to become one of the most public faces of that pivot, however politically awkward it may seem stateside.
As Politico noted, Huntsman's willingness to serve in the Trump administration is unusual, as he was an outspoken critic of the president during the 2016 presidential campaign.