Donald Trump has quietly hired hundreds of loyalists to serve as his "eyes and ears"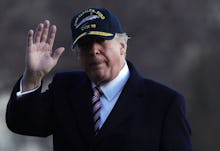 President Donald Trump has quietly positioned hundreds of his supporters to take jobs across the executive branch, essentially taking a backdoor approach to placing "his eyes and ears at every major federal agency" even while senior jobs requiring congressional confirmation remain unfilled, ProPublica reported Wednesday.
ProPublica posted a list of more than 400 such dubiously qualified Trump appointments, which the site wrote included everything from "obscure campaign staffers" and contributors to far-right website Breitbart to a recent high school graduate and at least 36 former lobbyists.
The staffers are serving in so-called "beachhead teams," temporary units serving for four to eight months. The beachhead teams are intended to familiarize Trump's administration with the workings of various federal agencies as well as shape the early implementation of Trump's agenda, though as ProPublica wrote, many of the hires will likely transition into full-time roles.
As Trump has left hundreds of jobs requiring congressional confirmation across the federal government unfilled, the beachhead teams have likely assumed "considerable influence," ProPublica added.
Some of the most explicitly partisan hires include writers for far-right websites, including Curtis Ellis, a former WorldNetDaily contributor, who is now a special assistant to the secretary of the Labor Department; and survivalist and "self-declared guerrilla warfare expert" Jon Perdue, a onetime Make Me a Millionaire Investor contestant who now works as a Treasury Department special assistant.
Others are lobbyists. Health and Human Services picked up pharmaceutical lobbyist Timothy Clark, health services lobbyist Keagan Lenihan and insurance lobbyist Alexandra Campau. Former lobbyist for defense contractor Palantir found a role at the Pentagon, while one hire at the Transportation Security Administration, Chad Wolf, is a lobbyist whose employer Wexler Walker said he is on "unpaid leave."
Finally, "dozens of former Trump campaign staffers" including multiple 2016 college graduates and Danny Tiso, who graduated high school in 2015, have landed beachhead jobs at various agencies.
Trump may have failed to make much progress nominating the hundreds of top-level roles that require Senate sign-off — something the president insists is deliberate. But the hires indicate Trump's administration is still forging ahead on his muddled policy agenda, even as the president and the media remain publicly preoccupied with the numerous high-profile scandals and controversies that have become constant fixtures of the Trump era.
A full list of the 400+ individuals is available on ProPublica's website.