This GOP senator is begging House Republicans to stop messing up the ACA repeal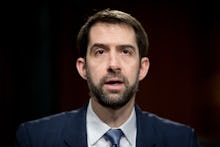 Sen. Tom Cotton, a conservative Republican from Arkansas, issued a stern warning to his GOP counterparts in the House on Thursday morning, saying the health care plan Republicans introduced this week faces major hurdles in the Senate and telling the House to "pause" and "start over."
"House health care bill can't pass Senate w/o major changes," Cotton — who faced a testy town hall over health care in his district late last month — tweeted. "To my friends in House: pause, start over. Get it right, don't get it fast."
Cotton went on to point out his own party's hypocrisy on questioning why Republicans would try and jam the bill through committees without an estimate from the Congressional Budget Office of how much the bill will cost or how many people it will impact.
It's an attack Republicans made of Democrats during the debate on the Affordable Care Act, saying they passed the bill before knowing what was in it.
Democrats, however, had weeks of hearings on the bill in June and July of 2009, and nearly a month of debate before putting it to a full vote for passage in December 2009.
Republicans, on the other hand, are trying to push the bill through committees and put it up for a vote before the Easter recess in early April — something Cotton took issue with.
"GOP shouldn't act like Dems did in O'care. No excuse to release bill Mon night, start voting Wed. With no budget estimate!" Cotton tweeted.
House Republicans did not appear to take Cotton's advice, however, with the powerful House Ways and Means Committee clearing the health care plan of its first major hurdle after a marathon hearing. 
President Donald Trump is also not keen on a delay, warning Republicans of an electoral "bloodbath" if they do not deliver on their promise to repeal former President Barack Obama's health care law.
But Trump also has a back-up plan if this bill can't pass Congress — the likelihood of which grows by the hour as Republican senators and powerful groups such as the AARP and the American Medical Association come out against the bill.
If Republicans can't pass this bill, Trump said he'll spitefully let Obamacare fail and try and place the blame for that on Democrats, according to CNN.