New poll shows people like Melania Trump way more than her husband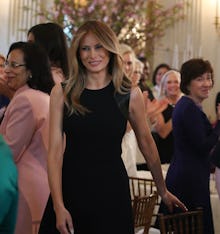 According to the latest poll by CNN/ORC, Melania Trump, who never leaves Trump Tower and who definitely doesn't tweet, is more popular than her husband, President Donald Trump.
The poll, conducted between March 1 and March 4, found the largely unseen first lady's favorability sits at 52% compared to 32% unfavorable and 12% expressed no opinion. Only 3% of Americans have never heard of her, a massive drop from the 23% of Americans who had never heard of the now-first lady in a February 2016 poll.
In fact, Melania Trump has secured a coveted prize in the Trump household: her favorability ratings — ahem — trump her unfavorables, something her husband, whose poll numbers have finally managed to surpass those of Hillary Clinton, is still struggling to accomplish.
According to CNN's poll, Melania Trump has seen a huge leap in her approval ratings — she's jumped 16 points since shortly before President Trump's inauguration, when her favorability ratings were at 36% CNN reported that the uptick is due to undecided Americans who, prior to the inauguration, had no opinion of the incoming first lady.
But as CNN's Jeanne Moos points out, internet theorists have other ideas, citing the fact that her minimal public appearances compared to her husband's make it easier to avoid high disapprovals and that a majority of men have a favorable opinion of her because she's an ex-model (58% of men to 46% of women). Some have even gone so far to argue that her approvals are due to people feeling sorry for her.
Whatever the reason for her increased popularity, it's hardly uncommon for first ladies to poll higher than their husbands as their work largely centers around positive optics while the president is a naturally much more visible figure. In 2014, the Washington Post reported that when Barack Obama's approval rating was just above 40%, first lady Michelle Obama still maintained a 66% approval rating.
According to Gallup's first lady ratings and interactive Presidential Job Approval tracker, first lady Laura Bush saw approvals above 70% between 2003 and 2006 while her husband George W. Bush's approvals went on a free-fall starting March 2003, dropping to 35% by the end of 2006. Similarly, when former president Bill Clinton's approvals hit 68% in Feb. 1999, Hillary Clinton's were a whopping 80% – the highest rating in her time as first lady, according to Gallup.
While Melania Trump has followed the approval footsteps of first ladies past, it's worth noting that no other president since record-keeping began has faced the same disapproval ratings as Trump has at this point into a first term. Donald Trump's disapproval ratings still far outpace his approvals: according to Gallup, Trump's approval rating has plummeted to 42% and his disapprovals have risen to 53% as of March 7.