Nintendo Switch Available Near Me: How to track when the Switch will be back in stock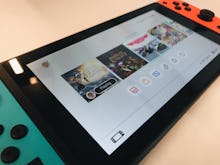 The Nintendo Switch is out of stock. Any gamers hoping to buy the system who didn't already get one on March 3 have come to grips with that reality. And unless you're trying to buy a unit off of eBay or Amazon's scalper section, you're likely fervently checking each store's site and refreshing all the live long day. But it doesn't have to be this way.
Retailers have largely been quiet as to when Nintendo will send over more units to be sold. Amazon has told Mic they're unsure of when they'll receive shipments and Walmart tells us they will receive more stock "over the next couple of weeks," recommending you call your local store (we've reached out to GameStop and Toys R Us as well about their wave two Nintendo Switch shipments. We're awaiting their response and will update this post as those answers come in.) Until then, here's what you can do.
Nintendo Switch available near me: Two methods for NowInStock alerts
The site NowInStock has one of the most comprehensive collections of retailers of the Nintendo Switch. Not only are the major sites listed but it's divvied up by stock keeping unit code: neon color, gray color and even bundles too (for those dying to give GameStop $600).
At the bottom of the retailer list, those with a Google account will be able to join the Google Group for NowInStock. From here, you're able to set up email alerts or notifications on your mobile device.
Using the site VisualPing, you're able to receive an email the second anything changes in a designated area of your chosen website. Taking things a step further, you can use IFTTT to receive text alerts or many other types of notifications when specific emails hit your inbox.
Nintendo Switch available near me: Sound alerts in your web browser
Zoolert and StockInformer will provide auditory alerts when Nintendo Switch stock is available. NowInStock also offers browser alerts but this is reserved for those with accounts to the site. When new stock for the Switch arrives, the alarm will sound. Having one of these sites open in the background while you're working or in class will help make sure you're the first to know when new consoles are in. Just promise for the sake of others around you that you'll use headphones.
March 9, 2017, 11:10 a.m. ET: This story has been updated
More Nintendo Switch news and coverage
Looking for more Nintendo Switch news? Learn why the Switch cartridges taste so bad. Check out our comparison photos sizing up the Switch to the Wii U GamePad (part one and part two), find out how to make use of ethernet without the dock and the best way to get alerts when new stock arrives.