'Borderlands 3' Clues: Easter egg spotted in 'Battleborn' DLC by fans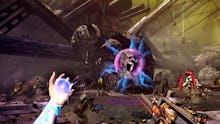 Gearbox Software's multiplayer shooter Battleborn has always had the unfortunate role of playing second fiddle to Blizzard's Overwatch, but that's not to say Battleborn doesn't have a dedicated fanbase. In fact, its fandom just proved quite the contrary after decoding a complex set of clues that revealed an intriguing easter egg for a sequel to Gearbox Software's biggest property: Borderlands — presumably titled Borderlands 3.
Here's what's going on.
Borderlands 3 clues: Several Easter eggs hiding within Battleborn
The first easter egg hiding within Battleborn was a relatively innocuous one. Players discovered a hidden word spray painted on a wall behind a gate in one of the Battleborn maps: "Promethea" — the name of the planet where the Atlas corporation discovered advanced alien technology.  (You can see it around the 1:10 mark in the following video.)
But that was just the beginning. Hiding within Battleborn's downloadable "story operations" was something far more complicated — a hidden message in morse code.
Some players noticed there was an odd beeping sound coming from portals that spawn in these story missions. Battleborn player whatsmynameagain eventually managed to convert these beeps into morse code, revealing a message once the signals from each portal were lined up back to back: "Visit Prometea / children of the vault / we are not on Pandora anymore / Tannis is not what she seems / do not open the vaults." (You can hear these beeps starting at the 3:10 mark in the following video.)
It's not clear exactly what these messages mean, but it's clearly some kind of warning or tease about what to expect in the next Borderlands game. "Prometea" doesn't seem to be anything in the existing Borderlands universe, but it's just one letter off from "Promethea," the aforementioned planet referenced in the first Borderlands Easter egg.
Patricia Tannis is a character who has appeared in previous Borderlands games, so it seems that she might play a larger role in Borderlands 3, potentially betraying the player character or becoming more explicitly villainous.
Borderlands 3 tech demo
Gearbox Software hasn't revealed any trailers or detailed information about Borderlands 3 yet, but at the Game Developers Conference earlier this year, it showed off a tech demo of a Borderlands-style environment running in Unreal Engine 4, providing some clues about what the sequel might look like.
It certainly seems like a big, official reveal is on the horizon, but that's all the information we have so far. When more Borderlands 3 info becomes available, we'll let you know.
More gaming news and updates
Check out the latest from Mic, including our deep dive into how female Overwatch players are dealing with online harassment, a cool Easter egg in the latest Pokémon Go update, a look at the Legend of Zelda fandom's reaction to uncomfortably hot Link and everything that comes in the $300 Shadows of War: Mithril Edition.