Jennifer Lopez has reportedly been dating Alex Rodriguez for weeks — not Drake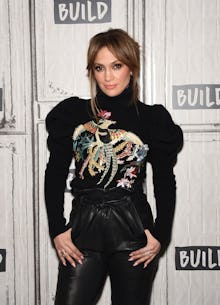 Singer and actress Jennifer Lopez's flirty friendship with rapper Drake was documented by both celebrities on Instagram last year. But the news that she's currently dating retired MLB star Alex Rodriguez adds further proof to a previous assumption that she and Drizzy were trolling us all along.
J. Lo and A-Rod have been seeing each other for weeks, according to People, although Lopez has not posted any photos of their newly formed bond on social media for us to swarm and discuss as of yet.
"She seems excited," a source told People of Lopez's alleged relationship with Rodriguez. "He has been around her family and she really likes that he is a dad. She is aware, though, that he is a ladies' man too and is being cautious. For now, it's just fun. She is single and enjoys dating."
The report also adds that Lopez and Drake were just "hanging out" and making music together last year. In January, Lopez confirmed that she and the rapper had collaborated on unreleased tracks. Videos surfaced of the two dancing together at an event to a song which appeared to have their vocals on it. 
"He just asked me to do a song with him and that's what we've been doing," she told ET. "We'll see if it's on his next album," she added. 
Even though we can confirm that Lopez and Drake are not a romantic item, we may get to hear what the two have been up to musically when Drake's next project More Life arrives this year. 
In the meantime, Lopez has been busy promoting the return of her NBC cop drama Shades of Blue and her forthcoming NBC dance competition show World of Dance, debuting this spring.
Mic has ongoing Jennifer Lopez coverage. Please follow our Jennifer Lopez hub here.