This is the 'Game of Thrones' scene filmed at the Azure Window before it collapsed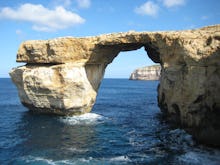 You may not know the Azure Window by its name, but chances are you have seen it. The natural limestone arch, which was a major source of tourism for Malta, has appeared in films like Clash of Titans and 2002's The Count of Monte Cristo. More recently, the Azure Window was featured in the HBO series Game of Thrones. 
Unfortunately, the natural structure will not likely be seen in future productions (at least not naturally), as the iconic landmark collapsed into the Mediterranean Sea on Wednesday. Malta's Prime Minister, Joseph Muscat, announced on Twitter that the structure's collapse was sad, but a long time coming. 
"Reports commissioned over the years indicated that this landmark would be hard hit by unavoidable natural corrosion," stated the Prime Minister. "That sad day arrived." 
In Game of Thrones, the Azure Window was featured in the very first episode, in one of the series' early memorable scenes: Daenerys and Khal Drogo's Dothraki wedding. The filming of this scene had caused some controversy at the time, due to the Game of Thrones crew's use of a sand-like substance not natural to the site. 
If you'd like to relive the Azure Window's better days, you can watch the Game of Thrones Dothraki wedding scene right here.
Mic has ongoing coverage of Game of Thrones. Please follow our main Game of Thrones hub here.