Why culture is still obsessed with Notorious B.I.G. 20 years after his death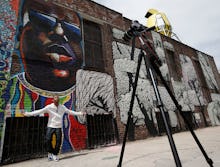 My 11-year-old cousin can rap "Juicy." She's never played a Sega Genesis, smoked a Bambu or sipped on Private Stock, but damn that little, white New York native can rap like she has. Notorious B.I.G. died about a decade before she was born, 20 years ago Thursday, and yet his lyrics have remained as vital as they were the day he first spit them, perhaps even more so.
"Juicy" is the "Stairway" of hip-hop. It's the gold standard up against every barbed lyric, diss and rap boast has been measured since; it's the crown jewel of Biggie's cruelly short three-year major label career. He never got a chance to outshine it, or ruin it, the way so many rappers who weren't shot down in their primes have. Biggie died a legend 20 years ago, rather than live to see himself become a lame. 
It's clear the culture still hasn't had enough of him. This year we're set to see a new Biggie documentary, a Biggie television series and a new album of posthumous Biggie verses hit the waves. They'll likely offer new ways to ask the unanswered questions hip-hop heads have been asking: What could he have built? Whose careers would he have ended? Whose would have never started? They've turned Biggie into far more than another who's who from rap history; he represents an entire arm of the culture seemingly clipped too soon, one that too many rappers still long for but can't resurrect.
In the '90s, hip-hop was dangerous. It was demonized, despised and it thrived all the more because of it. 
Today, Kendrick Lamar lends verses to Maroon 5 and Taylor Swift.
There's a certain level of disbelief with which listeners approach the threats, ultimatums, gun play and substance abuse that come from today's rap generation. Yet the vision those rhymes related weren't so easily dismissed before. 
Before he ever launched his career, Biggie was nearly a casualty of the war on drugs. According to a former hustling partner, the day Biggie left for New York to join Bad Boy records and record his debut, police raided the North Carolina stash house where he'd been working. His stories of trying to keep the neighborhood crackheads from going Bruce Banner or the cops from going Rambo feel more urgent than any told in the past decade. His beef with Tupac and the West Coast rap regime in which the two threatened to kill one another repeatedly, likely led indirectly, if not directly, to both their murders. 
Future's codeine glorification and Desiigner and Migos' "bow bow bow" gun toting feel like Looney Tunes in comparison.
The gangsta era can't return, nor should anyone want it to in full. Because of that, it will always bless the rhymes of people like Biggie and Tupac with a literal otherworldly quality. But it's not just B.I.G. This entire line of argument could apply to any genre's golden age. There's still good rock music being made today, but none of its has the danger or the hypnotizing power of Black Sabbath, Led Zeppelin or even Nirvana — whose frontman has obtained a similar level of cultural lionization to Biggie.
However, the era divide is obviously not all that determines Biggie's legacy. He was undoubtedly one of the best to ever do it. Even the tinny production of his Ready to Die album, aging so much faster than the album's flows, can't detract from his lyrical mastery. And he'll never need to try to bounce over a Metro Boomin' beat, as Jay Z will likely soon try. Biggie will remain in his comfort zone, his palace filled with Source magazines, champagne and 16-bit video game systems forever. 
Rappers still have a lot to learn from Biggie's flows, and it's clear that some, Rich Homie Quan for one, never took the time to study them. Perhaps, in that way, it's good that culture isn't ready to stop retelling the Biggie story. 
More Notorious B.I.G. news and stories
Mic has accumulated a wealth of Notorious B.I.G. stories over the years. Read 18 of his best lyrics that prove he's one of the finest emcees to ever spit. Read an interview with J. Period who has been remixing Biggie flows over new beats for years. Take a dive into Spotify data covering how Biggie's listenership has fared overtime compared to Tupac and other legends.