Don't turn me into a Snapchat filter when I die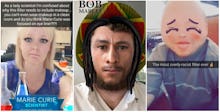 If you'd never heard of Marie Curie — a scientist who won the Nobel Prize for her pioneering research on radiation — Snapchat's filter in her honor would tell you she loved beakers, contouring and a good smoky eye. On International Women's Day, Snapchat released a commemorative Marie Curie filter, giving users eye makeup and a thinner face. 
Curie was joined by a Frida Kahlo filter, which whitewashed the Mexican artist's face, and a filter for Rosa Parks, which raised eyebrows for "turning a person of color's likeness into a costume."
The problem: These filters don't so much honor the achievements of historic women as they cater to Snapchat users' vanity and self-admiration. World-changing accomplishments matter, but what's more important is how I'm going to look when I overlay their face on mine.
They're also absent of educational value. Is there a way to turn someone into a filter while maintaining their integrity? How about a "swipe up" to learn more about the person behind the portrait, like the feature in Snapchat's Discover page? How about affording users the option to crowdsource images of their own women heroes and aggregating them into a public Snapchat story? Maybe even a dedicated Discover page for each new historical tribute?
Perhaps we shouldn't expect anything more enlightened from Snapchat, the history of which is like a cinematic montage of frat-bro culture and white male privilege. When Snapchat rolls out filters diminishing admirable women's achievements by catering to conventional beauty standards, it's hard not to recall founder and CEO Evan Spiegel making Sally Hemings jokes and "celebrating the legacies of our two-timing forefathers." 
It's telling that the people holding the company's most powerful positions are predominantly men and that the company short-changed the only woman on its board of directors — which it remedied only after the news became public.
It's equally telling Snapchat hasn't released a diversity report like many of its fellow tech companies. Its IPO filing noted that "diversity is about more than the numbers." It also stated, "We fundamentally believe that having a team of diverse backgrounds and voices working together is our best shot at being able to create innovative products that improve the way people live and communicate."
Diversifying its team to include more women and people of color is a major step toward developing products that might not come off as racist, sexist or just simply ignorant. Snapchat said so itself. 
More than 150 million people use Snapchat every day. That reach comes with a responsibility that doesn't involve tainting Frida Kahlo's legacy by reimagining her for the male gaze, celebrating Bob Marley by putting its users in "digital blackface" or creating anything resembling this racist "Asian" caricature:
The company is valued at $24 billion; Spiegel made a cool $1.5 billion on IPO day alone. Snapchat, whose largest demographic is 18- to 24-year olds, ought to recognize its pop-culture influence and obligation to learn from its countless insensitive mistakes.
And until then, perhaps iconic figures should add a line in their will: Don't turn me into a Snapchat filter when I die.