FBI Director James Comey says "absolute privacy" no longer exists in America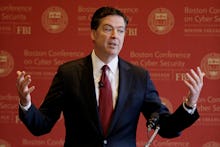 "Absolute privacy" does not exist in America, FBI Director James Comey said Wednesday during a conference on cybersecurity in Boston.
"All of us have a reasonable expectation of privacy in our homes, in our cars and in our devices," Comey said. "But [a reasonable expectation of privacy] also means with good reason, in court, government, through law enforcement, can invade our private spaces."
"There is no such thing as absolute privacy in America."
Comey was discussing the rising prevalence of encryption software since Edward Snowden revealed information about the National Security Agency's global surveillance programs in 2013; such softwre prevented the FBI from accessing 1,200 of the 2,800 devices it was granted permission to search at the end of 2016. 
Speaking a day after WikiLeaks published documents it claimed were from the CIA's Center for Cyber Intelligence revealing information about the agency's "global covert hacking program," Comey said that Americans have a reasonable right to privacy, but that the government could "invade" that privacy if it has a good reason. 
"We all value privacy. We all value security. We should never have to sacrifice one for the other," Comey said. "Our founders struck a bargain that is at the center of this amazing country of ours and has been for over two centuries."
What's more, on Tuesday, former CIA Director Michael Hayden appeared on Late Night with Stephen Colbert to address reports that the government is spying on Americans through the devices in their homes. In the interview, Hayden more or less confirmed that such a program exists, but insisted it was not being used against Americans.
"There are people out there that you want us to spy on, you want us to have the ability to actually turn on that listening device inside the TV to learn that person's intentions," Hayden said. "This is a wonderful capability. You give the intelligence community $53 billion a year — you ought to get something for your money."
Comey made his remarks amid increased media attention on the U.S. intelligence community, in part due to its rocky relationship with President Donald Trump, who likened the agencies to Nazi Germany in a tweet in January. 
In the press conference, the FBI director also announced that he plans to finish out his full term as head of the agency.
"You're stuck with me for another six-and-a-half years," Comey said.