'Pokémon Go' Nest Migration 16: How to track changing spawn locations after the update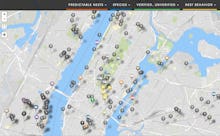 It's finally here. Nest migration 16 has come to Pokémon Go. This means new Pokémon are appearing in your area, and if you're lucky, maybe some boring nest like Tentacool or Bellsprout has been replaced with something good, like a Cyndaquil or a Dratini. In any case, you're sure to notice some new faces hanging around your neighborhood. 
Here's the scoop on what's spawning where.
Pokémon Go nest migration 16: Official release and Global Nest Atlas updates
Nest migration 16 occurred March 8, according to the Silph Road subreddit, with a request that members of the community begin reporting the new spawning locations for their cities.
If you'd like to check the Global Nest Atlas to see what's spawning in your city now, just click or tap that link (it works fine on mobile) and allow Google Maps to use your location. You can also use your cursor to drag the map all over town, but you're probably going to get some slowdown doing that.
The listings might seem a little sparse at the moment, but that should improve over time. You can also opt to show only confirmed sightings if you don't want to bother with hearsay and rumor. If you'd like to help fill out the Global Nest Atlas, you can always register your account here and start confirming some of the nests in your area.
If you're not happy with a cursory glance over your new local Pokémon, don't worry. This is already the third nest migration Pokémon Go has had since the start of Gen 2, so you won't have long to wait until Niantic shakes things up again. At bare minimum, hopefully you've got some Pokémon that are good for experience grinding. 
Until the next big shake-up happens — we're still crossing our fingers for new region-specific Pokémon — happy hunting and good luck.
More Pokémon Go guides, tips, tricks and updates
Check out Mic's Pokémon Go tips and tricks. Here are guides on how to get stardust, how to determine how long it will take you to reach level 40, the kind of Pokémon you get from 10km eggs, how to create new PokéStops, how to maximize your chances of catching Pokémon and how PokéStops distribute Pokémon eggs. Also check out how to catch Gen 2 baby Pokémon, our analysis of post-balance update Chansey and Rhydon and everything you need to know about finding the long-awaited Pokémon Ditto.