Iceland just became the first country to make the gender pay gap illegal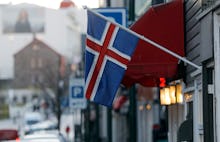 Iceland just made history by becoming the first country in the world to require companies to prove they pay their employees equally regardless of gender.
Fittingly, the Icelandic government announced the new legislation on International Women's Day. According to the Associated Press, the Icelandic government will introduce legislation to Parliament later this month that will require any business with more than 25 employees to obtain a certificate confirming that they pay all employees equally for equal work. Similar certificate programs exist in other countries and in one U.S. state, Minnesota. But Iceland will reportedly be the first country to mandate a certificate for both public and private companies.
The move comes after a massive national protest in October, in which thousands of Icelandic women left work at 2:38 p.m., a symbolic move that protested the country's 14% gender pay gap by leaving their workplaces 14% earlier than usual.
Iceland has vowed to completely close the gender pay gap by the year 2022. The small island nation already requires all companies above a certain size to have boards made up of at least 40% women, and Wednesday's announcement will hopefully bring the country one step closer to equal pay for equal work.
"The time is right to do something radical about this issue," Thorsteinn Viglundsson, Iceland's Minister of Social Affairs and Equality said on Wednesday, according to the AP. "We need to make sure that men and women enjoy equal opportunity in the workplace. It is our responsibility to take every measure to achieve that."
Iceland consistently ranks number one in the world for gender equality by the World Economic Forum. The U.S., which ranked at 45 on WEF's 2016 Global Gender Gap report, posted an estimated gap of 20% in 2015. But those numbers don't represent everyone equally — according to the IWPR, the wage gap is closing at a dramatically slower rate for hispanic women and black women than it is for white women.