'Forbes' 30 Under 30 members wrote an open letter to Trump denouncing the Muslim ban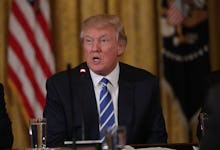 Sixty-six members from current and past Forbes' 30 Under 30 lists, an annual list of influential entrepreneurs and game changers under the age of 30, signed an open letter addressed to President Donald Trump condemning his latest Muslim travel ban.
The letter, obtained by Mic, called Trump's executive order on immigration — which bars refugees for 120 days and suspends new visas from six Muslim-majority countries — "unjustified, illogical and discriminatory."
"We view this executive order as unjustified, illogical and discriminatory — it targets minorities, immigrants and Muslims," the letter read. "We fear that these actions put our peaceful future in jeopardy."
"We come from many countries, faiths and backgrounds. Many of us are American. Some of us are immigrants who travelled across the globe to resettle in America for a better future, and to have equal rights. Some of us are citizens of other nations speaking up because know that the U.S. has a crucial role to play as a global leader on human rights."
Alexis Morin, the executive director of Students for Education Reform, said she hopes the letter will prompt the Trump administration to rethink the travel ban.
"We are asking for the opportunity to meet with the president and the House Judiciary Committee Chairman Bob Goodlatte, and House Homeland Security Chairman Mike McCaul to share how the Muslim ban is affecting us and our businesses," Morin wrote in an email.
Alaa Murabit, a U.N. high-level commissioner, was the first to sign the open letter. Murabit is a leading international advocate for peace, the creator of the Voice of Libyan Women and serves as MIT Director's Fellow. Murabit said that the travel ban was partly personal for her as a Libyan-Canadian, but from an objective lens the ban illustrates outright hypocrisy.
"The ban betrays democratic values, empirical analysis, and basic human decency," Murabit said. "When people are fleeing, our response should not be to batten down the hatches, it should be to open the doors, provide the 'life, liberty and pursuit of happiness' that America has prided itself on, and then look introspectively at what our role is in the conflicts or economic crisis they are fleeing and how we can best be of service.
Michael Roytman, co-founder of the Dharma Platform, a data management software company, wrote in an email that he signed the letter because he is a descendent of Ukrainian refugees and believes refugees contribute immensely to the American population.
"My family came to the U.S. on a refugee visa from Ukraine," Roytman said. "Since then, the three of us have paid taxes for 20 years, started a total of five businesses, created dozens of jobs, volunteered here and there, passed the citizenship exams and helped other refugees."
Millie Barsallo, co-founder of RISE, an organization dedicated to educating and empowering low-income families of color, did not mince words on why she signed the letter. Barsallo expressed the fears many immigrants, minorities and Muslims have in living under the Trump administration.
"My family immigrated to the U.S. from Panamá when I was a baby," Barsallo said. "The day I became a U.S. citizen almost 10 years after our arrival is still one of the proudest days of my life. The Trump administration mimics the oppressive tactics of the authoritarian regimes my family, and many immigrants who've come to the U.S. from all over the world, left behind."