Hawaii teacher refuses to teach undocumented children, he says in staff email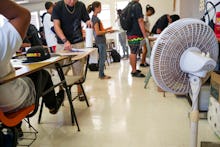 John Sullivan teaches social studies at Campbell High School in Ewa Beach, Hawaii — but only to children who live in the United States legally, he said in a harshly worded email.
According to KITV, another Campbell High teacher sent on Wednesday a staff-wide email advising colleagues on how to deal with students being kept home from school due to fear of deportation.
"Their parents need to apply for immigration like everyone else," Sullivan replied. "If they are here in the U.S. illegally, I won't teach them."
Sullivan's response did not go over well. Principal Jon Henry Lee was quick to set the record straight on what Sullivan would and would not be doing.
"Teachers should not be using the school's email to voice political opinions," Lee wrote in a letter. "Sullivan will teach any student who is enrolled at Campbell High School."
A spokesperson for the Hawaii Department of Education said Sullivan will be disciplined by the high school.
"Our public school system services all students," director of communications Donalyn Dela Cruz told KITV.
Sullivan's outburst is just the latest inhumane response to President Donald Trump's crackdown on immigration. 
On March 2, Immigration and Customs Enforcement agents detained an undocumented father of four in Highland Park, California, while he was dropping his daughter off at school. The daughter sobbed as she captured the arrest on video.
On Tuesday — the day before Sullivan sent his email — Hawaii became the first U.S. state to challenge Trump's revised Muslim ban in court. Trump signed an executive order Monday restricting travel from six majority-Muslim countries. The new order updated the president's previous Muslim ban, which was signed Jan. 27 and had a disastrous rollout marked by nationwide protests.
A federal judge is set to hear arguments from Hawaii Attorney General Douglas Chin on March 15, the day before the order is slated to go into effect. 
Whether or not the lawsuit is successful, it's unlikely to fix the kind of widespread antipathy toward immigrants — Muslim, undocumented or otherwise — displayed in Sullivan's email.