Gay veterans group denied right to march in Boston St. Patrick's Day Parade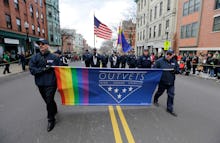 Someone is raining on these veterans' parade. 
According to the Boston Globe, organizers of South Boston's St. Patrick's Day Parade reinstated a ban on OutVets, a group for gay veterans, after previously allowing them to march in the parade the past two years.
OutVets director Bryan Bishop told the Globe that the official reason for the ban was the rainbow flag. Organizers informed him it violates the parade's code of conduct because it symbolizes gay sexuality.
"It's because we're an LGBT organization," Bishop told the Globe. "They didn't want us in the first place." 
He added, "No matter what they say, they are discriminating against veterans. End of story." 
A swift backlash ensued against banning the gay veterans from the march. The parade marshal, Army veteran Dan Magoon, resigned after the vote, the Globe reported. Mayor Martin J. Walsh, Massachusetts Gov. Charlie Baker, Sen. Edward Markey and other politicians have said they would boycott the event if the vets were not allowed to march. 
"I will not tolerate discrimination in our city of any form," Walsh said in a statement. "We are one Boston, which means we are a fully inclusive city." 
The group responsible for the decision, the Allied War Veterans Council, and OutVets did not immediately respond to Mic's requests for comment. According to the Globe, the two organizations called a meeting on Wednesday afternoon that didn't change the outcome of the vote. 
The council will meet again on Friday to reconsider the issue, Bishop told the Globe. 
Sponsors have begun to pull out of the event over the controversy. Stop & Shop withdrew its support, while Anheuser-Bush and the Boston Scally Co. said they're "reevaluating" their roles in the festivities, the Globe reported. 
"That word 'veteran,' to me, approaches 'holy,' and the idea that we would restrict the opportunity for men and women who put on that uniform, who know full well they could put themselves in harm's way, and deny them an opportunity to march in the parade that's about celebrating veterans doesn't make any sense to me," Baker told the Globe. 
The Boston St. Patrick's Day Parade has dealt with this issue before — and brought it all the way to the Supreme Court. In 1995's Hurley v. Irish-American Lesbian, Gay and Bisexual Group of Boston, the court unanimously ruled that the veterans council could exclude groups they felt were at odds with their own message.